July 2018
Our findings for Italy for the last quarter place TIM at the top of our download speed chart, with average speeds on 4G of 25.60Mbps, ahead of Vodafone, 3 and Wind, and reaching highs of 29.16Mbps in Emilia-Romagna.
Whilst they still have a long way to go to match the market share of TIM, Vodafone and Wind Tre, French operator Iliad also launched in Italy in May and after just 50 days have already secured 1 million subscribers. A statistic sure to cause some panic for the three leaders in the region.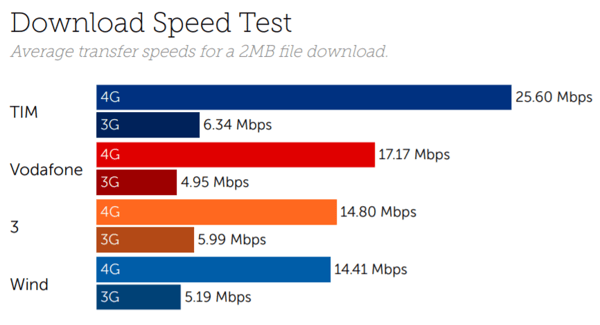 Vodafone score lowest latency

At 26.8ms, Vodafone lead our latency chart, with second place TIM averaging 28.6ms on 4G. Despite suffering a revenue fall of 6.5% in its last quarter to June end, Vodafone also lead our latency findings for each of the three regions we looked into for our latest report, Lombardy, Lazio and Emilia-Romagna.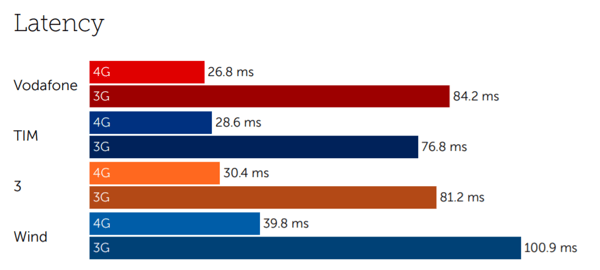 3 provide the best network stability

With the lowest average results for packet loss and jitter, 3 demonstrated the best network stability of the group. TIM placed well for low packet loss but are let down by their high average jitter in comparison with 3.
CK Hutchison, soon to be sole owner of Wind Tre pending regulatory approval, appear confident about growing their position in the Italian market despite the entrance of French operator Iliad, as they announce a bid to take over the 50% of the telco they don't already own from Amsterdam's Veon for €2.45bn.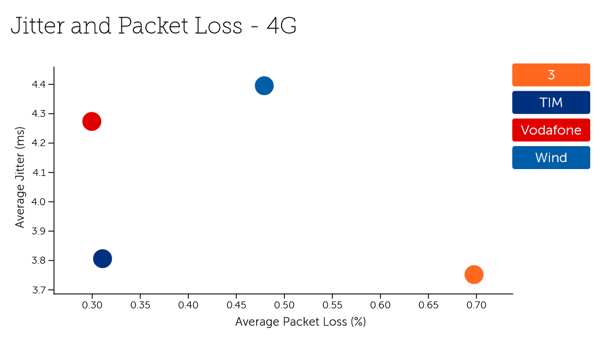 Our findings for Italy are based on 3.5 billion network quality measurements including 283 thousand speed tests between April and June 2018. Our latest complimentary Mobile Experience Report is available to download from the Tutela Insights portal.
Get the full report
Access Tutela Insights to view this complementary report in full