September 2018
Two key players in the Italian market, TIM and Vodafone, take the lead in our latest tests from August. Both operators spent significant amounts at Italy's recent spectrum auction to future proof their positions in the country, for now it's TIM who lead both download and upload speeds, whilst Vodafone perform best for latency.
TIM lead download speeds
TIM top download speeds across both 3G and 4G with average speeds of 18.78Mbps and average 4G speeds across the country of 23.49Mbps. Vodafone follow in second place with average 3G/4G download speeds of 13.48Mbps ahead of Wind and 3 who scored 9.77Mbps and 8.86Mbps respectively.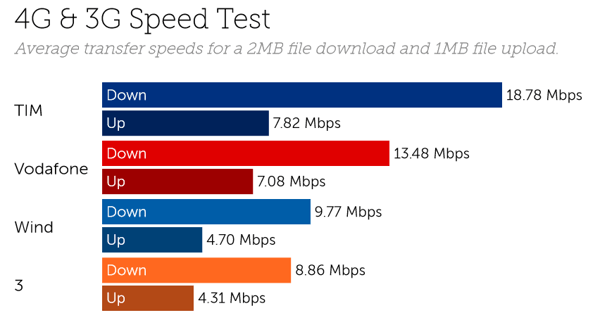 TIM place first for upload speeds
TIM, who managed to secure all three bands on offer at Italy's recent 5G spectrum auction, also lead upload speeds, ahead of Vodafone, 3 and Wind, with average speeds on 4G of 9.73Mbps. Having invested 2.4 billion euros, TIM acquired 80 megahertz in the 3.7 GHz band, 200 megahertz in the 26 GHz band and 20 megahertz in 700 MHz band of spectrum, and have already set out 5G network plans for the country. On 3G, 3 inch ahead of Vodafone to take second place behind TIM, with average upload speeds of 2.45Mbps.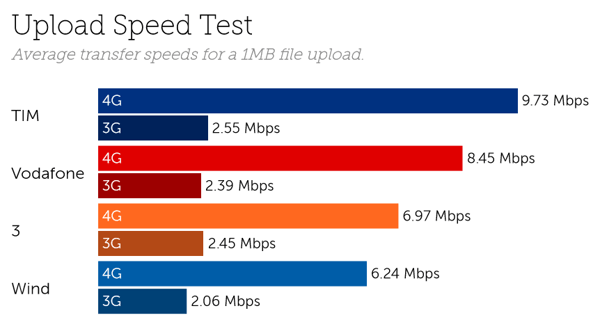 Vodafone perform best for latency
With average latency results on 4G of 30.2ms, Vodafone lead our latency results for August, followed closely by TIM at 31.1ms. 3 and Wind place further behind with results of 35.8ms and 48.2ms respectively. Vodafone also spent 2.4 billion euros at Italy's recent spectrum auction, and although haven't released timings for their 5G launch, have similar plans to deploy 5G services with their new spectrum capacity.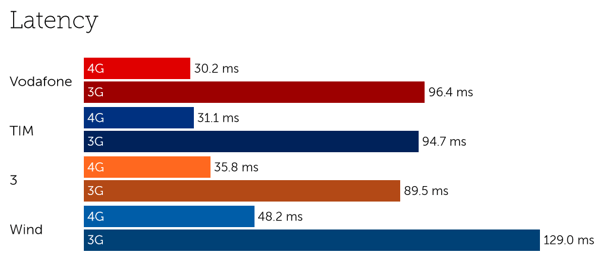 Our findings for Italy are based on 3.07 billion network quality measurements including 300 thousand speed tests between June and August 2018. Our latest complimentary Mobile Experience Report is available to download from the Tutela Insights portal.
---
Subscribe to our latest insights
Access Tutela Insights to view this complimentary report in full and subscribe below to get our latest insights in your inbox each week.