December 2020
As the end of year wind-down commences, the mobile industry must continue to push forward with its 2021 plans but also allow itself to reevaluate on what has been one eventful year for all. With the spotlight on Italy and all things 5G, TIM and cell tower company INWIT have partnered up to install at least 100 small cells in large cities such as Milan and Genoa that will be able to support 5G technologies, with the aim for 120 cities to have 5G at their disposal by 2021.
Progress in Italian mobile deployments has continued despite the challenges of increased lockdowns and market uncertainty. Back in February, the Iliad group partnered with Nokia to roll out 5G to its 17 million subscribers across France and Italy, and with the Italian side of the business only just over two years old the operator reported that an extra 580,000 mobile subscribers were added in Q3 2020 alone showing its impact in the market, even in challenging times. Outside of the industry's continued focus on 5G, telecoms businesses have also taken steps to address the challenges of the current situation. For example, students who are subscribed to either TIM, Vodafone and WindTre will have access to distance learning resources free of data charges, thus allowing them to continue studying from a safe distance without it cutting into their usual data package deal. Meanwhile, WindTre completed its merger with the launch of a new joint brand in March 2020.
However, despite the pace of innovation and deployment, Italy still has some work cut out for it to keep up with some of its other European counterparts. In the latest Global Mobile Experience Report by Tutela, Italy was ranked 35th for Excellent Consistent Quality along with Serbia, tied 34th for Core Consistent Quality along with Finland, Spain, Poland, and Uruguay, and 32nd for download speeds.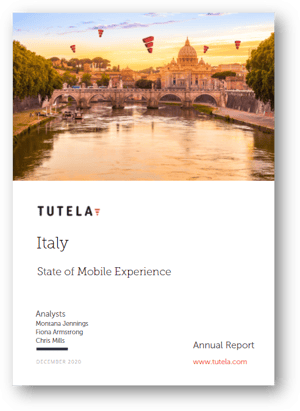 Tutela has analyzed over 5 billion total records taken from real-world smartphone users, including more than 27 million speed and latency tests, taken between May 1st and October 31st 2020.