March 2019
As Vodafone launch 4G VoLTE and expand 5G testing across the country, they also lead our latest Mobile Experience Report for Ireland, topping download speeds, upload speeds and latency on 4G.
Vodafone perform best for download speeds
Averaged across both 4G and 3G, Vodafone lead the rankings for the fastest download speeds in Ireland - at 19.59 Mbps. There's a large gap between Vodafone and second place Meteor (eir), which averaged just 11.16 Mbps, closely followed by 3 at 8.44 Mbps. On 4G only, Vodafone reached average speeds across the country of 27.05 Mbps, almost double that of second place Meteor, based on more than 30 thousand crowdsourced tests on the Vodafone network.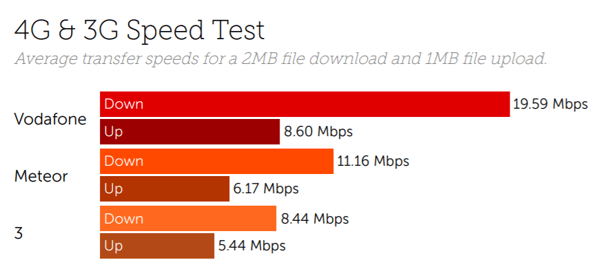 Upload speeds are much closer
With an average result between December and February of 11.22 Mbps, Vodafone also lead 4G upload speeds in Ireland, although the rankings between operators is much closer, with Meteor again placing second and averaging 8.41 Mbps, followed by 3 in third place with a result of 7.50 Mbps.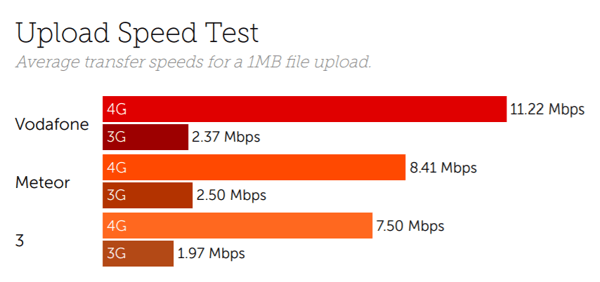 Vodafone inch ahead for latency
Vodafone continue to perform best in our latest Mobile Experience Report for Ireland, topping our 4G Latency rankings averaged across the country with a delay of 14.0 ms. This puts them just ahead of Meteor which averaged 14.6 ms and 3 at 19.3 ms. Meteor manage to close the gap in Munster to just 0.2 ms, but still sit in second place for 4G latency. On 3G however Meteor take the lead in Munster and across the country, with an average latency score of 46.1ms and 46.8 ms respectively.

Our findings for Ireland are based on 4.64 billion network quality measurements including 798 thousand speed tests between December 2018 and February 2019. Our latest complimentary Mobile Experience Report is available to download from the Tutela Insights portal.