March 2021
While the majority of the developed economies have already begun deploying 5G, India is anticipating delays in adopting new technologies. According to a recent report published by a Parliamentary Panel on Information Technology, the launch of 5G technology will be delayed until the end of 2021 or early 2022, with 5G spectrum auction for the 3300 MHz to 3600 MHz bands likely to happen in "the next six months or so". In the meantime, applications for 5G trials submitted by the four major operators in India are expected to be cleared imminently.
Although subscribers in India may have to wait a while to enjoy the benefits of 5G, the upcoming major spectrum auction will help boost capacity and improve network performance. Scheduled to begin on March 1, this auction primarily involves sale of spectrum for 4G services for frequency bands 700 MHz, 800Mhz, 900 MHz, 2100 MHz, 2300 MHz and 2500MHz. While Airtel, Vodafone Idea (now known as Vi) and Jio are all slated to be participating in this auction, they may reportedly invest conservatively in order to save funds for the future 5G auction as they aim to launch 5G later this year.
In Tutela's 2020 Global Experience Report, India ranked 96th in the Excellent Consistent Quality ranking, which is Tutela's metric for how often a connection meets the network requirements for some of the most demanding mobile use-cases like 1080p video streaming, real-time mobile gaming and HD group video conferencing. This ranking indicates that operators in India still have an uphill battle for delivering superior subscriber experiences. While acquiring more spectrum and welcoming adoption of newer, more flexible concepts like O-RAN are positive steps towards strengthening their network, how quickly operators act on expanding 4G as well as deploying 5G after acquiring additional spectrum through the upcoming auctions will impact the improvement in user experiences.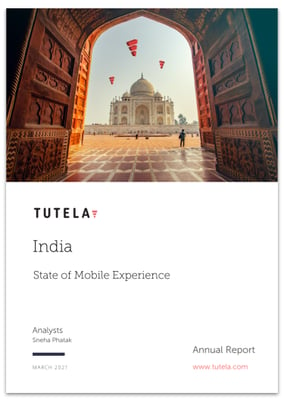 For this analysis of mobile network experience across India, Tutela has analyzed over 31 million speed and latency tests taken from real-world smartphone users, collected between August 1, 2020 and January 31, 2021.
---