July 2020
When Comlinkdata acquired Tutela in September 2019, we announced that the move would bring together complementary data on consumer experience, network performance and subscriber behavior. Doing so is an industry first and will help the telecom industry understand and execute on opportunities to better meet the needs and wants of consumers.
Today, we can share some early findings from this integration, and some key learnings for operators looking to understand how their wireless network investment strategies can impact customer churn, and consequently, the business bottom line.
Metrics of network design and delivery including site density, availability of mid-band spectrum coverage, and provision of indoor coverage, correlate most strongly with subscriber loss. This stands in contrast to more traditional measures of network performance, such as average download speed, which showed virtually no correlation with loss share or defections.
There is no one right way to build a network that keeps customers happy, as can be seen in the variety of network factors that lead to success for each of the four major US carriers. Because each carrier network strategy is unique, so too are the factors that contribute to providing an experience that will retain customers and grow revenue.
The carriers who can identify and manage the specific network metrics that lead to customer success given their unique network will build a competitive advantage - and enhance their bottom line - despite these challenging times.
Diving into this a little deeper, the findings come at a time where nationwide, COVID-19-driven lockdowns from March to May had a pronounced impact on carrier switching, with total switching volume down over 50% year-on-year during the COVID-19 lockdown. Simultaneously, mobile network performance data from Tutela shows that on a national level, performance stayed the same or improved, as subscribers travelled less and spent more time indoors, where Wi-Fi networks dominate.
However, the story isn't quite as simple as "switching down, networks up". Operators in individual markets saw defections and loss share increase, indicating that not all subscribers were happy with their network experience. This hypothesis is supported by correlations we can observe between network deployment and configuration, and key metrics of churn before and during the COVID-19 lockdowns.
The data shows that good network architecture, deployed well in advance of a unique demand for connectivity, was critical for ensuring a good customer experience — and, as a result, retaining customers during this turbulent period. Although total switching volume is down, we believe that the preferences revealed by those who were willing and able to switch during lockdowns are particularly important. Subscribers that are willing to switch operators during a lockdown are presumably more motivated to do so, and therefore we view these signals as being particularly indicative of subscribers' network experience.
Switching data from Comlinkdata and network data from Tutela, a member of the Comlinkdata family, shows that there was no consistent, cross-network driver of customer retention: for some networks, the density of cell sites per capita was the strongest indication of customer retention during lockdown, whilst weak indoor performance was a driver of customer churn for other networks. The design and implementation of the networks themselves led to different rates of customer loss.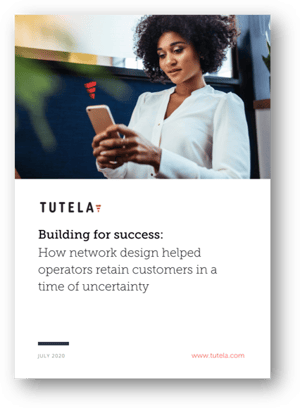 Notably, there was no clear link between traditional measures of network performance — for example, download throughput — and customer defection during the lockdown period. Whilst performance metrics can be useful for tracking technical improvements in network capability, the data suggests that subscriber experience — and, therefore, acquisition and retention — is driven more by other factors. Our full complimentary report is available to download from the Tutela Insights portal.