February 2019
Every day, dozens of mobile network operators on several continents use Tutela's solutions to monitor and improve their networks. But Tutela's dataset and platforms are valuable for much more than just keeping an eye on RAN infrastructure or checking out competitors - they can also hold the key to making smart decisions about where to invest billions of dollars in capital.
Tutela has partnered with Rewheel, a leading European boutique telecoms management consultancy that advises operators on spectrum auctions and infrastructure investments, to conduct research into the efficacy of different LTE network investment strategies.
By leveraging Tutela's dataset, Rewheel was able to tease out the impact of investing in cell site density, and compare it to the approach of adding spectrum. Thanks to hundreds of millions of speed and latency tests collected globally every day, we can examine statistics like average download speed and cell signal, grouped by operator, cell site, or time of day, and make like-for-like comparisons across 30 countries - the kind of analysis that's nearly impossible through conventional means.
One of the more insightful conclusions is that when it comes to delivering a consistently adequate network performance - even on heavily loaded networks and at peak traffic times - operators that have focused on cell site densification rather than spectrum deployment come out ahead.
Spectrum auctions for 5G are expected to pull down tens of billions of dollars over the course of 2019; the operators that are cognizant of the benefits of expert analysis backed by data will be able to invest intelligently, deliver the best customer experience, and ultimately reap the greatest rewards.
In addition to demonstrating the value of massive crowdsourced data, this report also showcases one of Tutela's other innovations: making big data analysis quick and easy, so that industry analysts don't need to write lines of code or wait around to get the answers to questions.
Tutela Explorer is our flagship analysis product that combines an intuitive graphical interface with a cutting-edge data processing engine. The end result is that anyone is able to quickly learn the tool and manipulate Tutela's dataset. Rewheel's Pal Zarandy, who conducted much of the analysis for the report using Explorer, said:
"Tutela Explorer has a flexible and intuitive online user interface. It is quick and easy to define new metrics and the tool can very quickly return and visualise the results in tables, bar charts, histograms or for example on a heat map. Tutela Explorer allowed me to test new hypotheses on billions of measurement data samples in a matter of seconds. Instant gratification to the curious and impatient analyst!"
---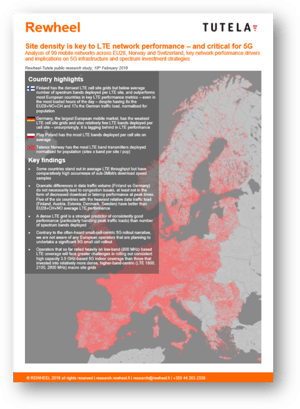 The full research report is available below; to learn more about Rewheel, visit their website, and for more information about Tutela Explorer or our other data analysis solutions, click here. Experts from Tutela and Rewheel will be available at Mobile World Congress 2019 to discuss the findings of the report and demonstrate how crowdsourced data analytics can be used in 5G planning. Why not book a meeting with us?