September 2018
Our results for the last quarter until July show Telekom performing best for download speeds whilst Vodafone lead upload across Germany. O2, who sit in third place for both, take our top spot for 4G latency with results of just 19.6ms, but place third again for latency on 3G.
In August, Germany's antitrust regulator called for a fourth mobile carrier to enter the market, as the telecoms regulator also encouraged mobile operators to open the market to MVNOs to increase competition. Telekom, Vodafone and O2 are reportedly against the suggestion, saying it would put them at a disadvantage as new firms wouldn't be required to invest significantly in network infrastructure with the upcoming 5G spectrum auction due to take place at the beginning of 2019.
Telekom lead download speeds
With average speeds across both 3G and 4G of 14.73Mbps, Telekom lead our latest download speed chart above both Vodafone and O2. On 4G only, Vodafone take the lead with average real world speeds of 20.27Mbps, as Telekom drop to second place reporting 18.93Mbps.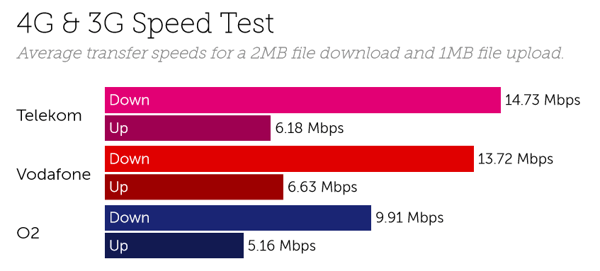 Vodafone place first for upload

Vodafone, who have reported they will be running their first 5G verifications in September, take the lead in our latest upload speed tests with average speeds of 10.25Mbps on 4G. Telekom and O2 place second and third with average upload speeds of 8.55Mbps and 7.05Mbps respectively.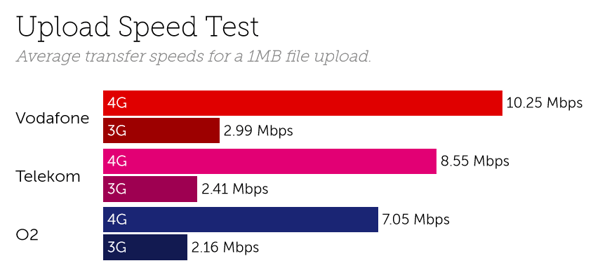 O2 top the group for latency

According to our latest reports, O2 perform best for latency in Germany on 4G, with results of 19.6ms compared with second place Vodafone with 21.5ms. On 3G however, O2 place at the bottom of the group, behind both Vodafone and Telekom who both report quicker latency results. In Bavaria, Vodafone also inch ahead of O2 to top our latency chart on 4G.

Our findings for Germany are based on 2.99 billion network quality measurements including 292 thousand speed tests between May and July 2018. Our latest complimentary Mobile Experience Report is available to download from the Tutela Insights portal.
---