October 2018
According to our latest results between June and August of this year, Telekom show best overall download speeds however Vodafone claim the lead in our results for 4G on both download and upload speeds. O2 sit in third place for both but do perform best for latency on 4G as all networks suffer from some degree of jitter and packet loss.
Telekom lead overall as Vodafone top 4G
Telekom perform best for download speeds ahead of both Vodafone and O2, with average 4G and 3G speeds across the country of 14.89Mbps. Telekom CEO, Timotheus Höttges, recently announced that 80% of the German operator's mobile network is now "5G ready", as they work towards a commercial launch of 5G technology in 2020. Vodafone however, top the table for 4G, overtaking Telekom with average 4G download speeds of 20.33Mbps as Telekom slip to second place with just 19.23Mbps.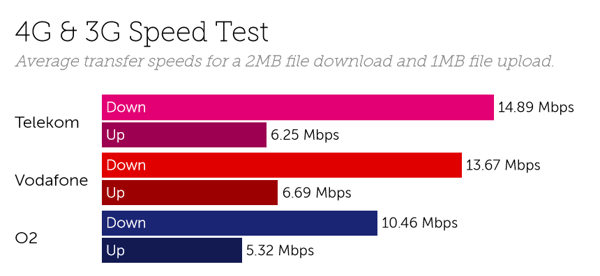 Vodafone top our upload chart
Vodafone also lead our upload speed tests on both 4G and 3G, averaging 4G speeds of 10.55Mbps compared with second place Telekom at 8.71Mbps and third place O2 at 7.25Mbps.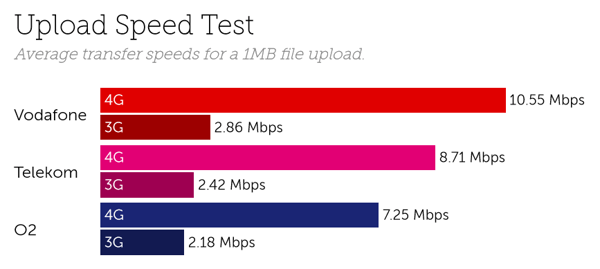 O2 lead latency
On 4G, O2 top our latency results for Germany with an average score between June and August of 19.0ms. O2 however, fall back to third place on 3G, where Vodafone again take the lead with 66.8ms compared with O2 at 77.3ms.

Our findings for Germany are based on 4.79 billion network quality measurements including 437 thousand speed tests between June and August 2018. Our latest complimentary Mobile Experience Report is available to download from the Tutela Insights portal.
---