Heavy competition between operators in the French market may impact on customer's purchasing decisions, but our findings for the three months up to August show Orange as a clear leader, topping download speeds, upload speeds and network stability for the group.
Orange lead 4G download speeds
Orange, who have recently been awarded the contract for in-flight connectivity by Air France, lead our latest download speed tests with average speeds on 4G of 23.37Mbps, ahead of second place Bouygues at 19.38Mbps and SFR and Free Mobile who place third and fourth respectively with average speeds of 16.22Mbps and 15.77Mbps. The 3G race is closer, as both Bouygues and SFR tie averaging download speeds of 5.00Mbps but still sit behind Orange and ahead of Free Mobile.
On 4G our upload speed rankings for the last three months also show a similar pattern, as Orange lead the table. However, Orange fall behind slightly on 3G, only managing 2.00Mbps which puts them in third place marginally ahead of Free Mobile.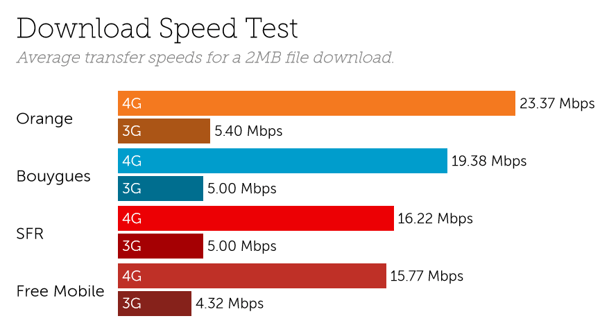 Free Mobile top latency rankings

Free Mobile lead our latency results by quite a margin, with average results on 4G of 15.8ms. Second, third and fourth place all sit within 1.5ms of each other, but it's Bouygues who inch ahead to claim second place of the remaining three operators.
Free Mobile reported a significant drop in subscribers in the first half of 2018, the first reported decline in subscribers since their launch in 2012. Although suffering a drop in users, Iliad commented profitability is up as the company looks to focus on higher paying subscriptions.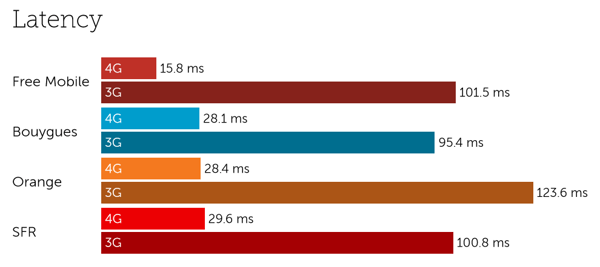 Orange perform best for network stability
With the lowest average results for jitter and packet loss, Orange lead our network stability findings of the group. SFR, Free Mobile and Bouygues all suffer from some amount of both jitter and packet loss, with Free Mobile reporting the highest jitter of the group, and Bouygues the highest packet loss.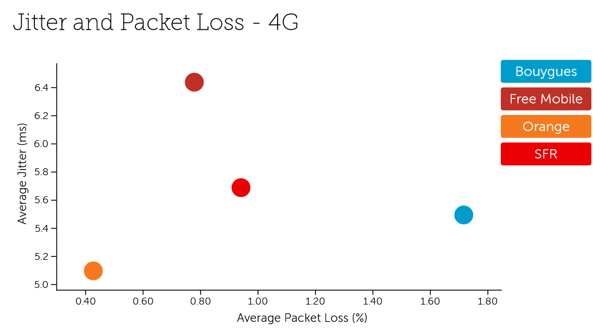 Our findings for France are based on 2.92 billion network quality measurements including 268 thousand speed tests between June and August 2018. Our latest complimentary Mobile Experience Report is available to download from the Tutela Insights portal.

---
Subscribe to our latest insights
Access Tutela Insights to view this complimentary report in full and subscribe below to get our latest insights in your inbox each week.