In the wake of Arcep's survey that ranked Orange the best in the country for quality of service, Orange also lead our download speed and network stability tests for the three months up to September. Free Mobile perform well for latency as SFR and Bouygues consistently place in the middle of the group.
Orange lead download speeds
With average download speeds across both 3G and 4G of 20.80 Mbps, Orange top our latest download speed chart, ahead of Bouygues, SFR and Free Mobile. Bouygues, who last month announced their 4G service now covers more than 64 million people in France, aka 98% of the population with over 16 thousand cell sites, place second for 4G download speeds with average results for the three months up to September of 20.45 Mbps across the country.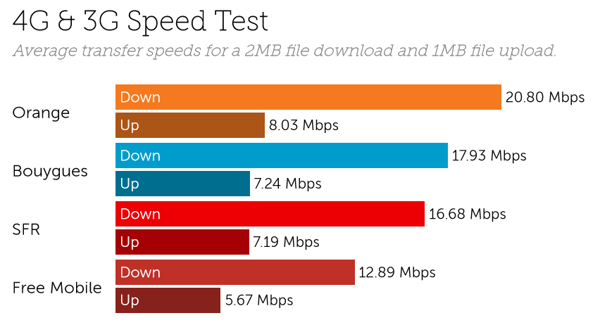 Free Mobile top latency on 4G

Ahead of Bouygues, Free Mobile perform best for latency, with results of 15.6 ms on 4G, but slip down to second place when we look at 3G only where Bouygues takes the lead, scoring 88.8 ms. Orange place third overall, dropping to fourth in Ile-de-France but jumping to second in Auvergne-Rhône-Alpes and Languedoc-Roussillon-Midi-Pyrénées where they score 23.8 ms and 27.5 ms respectively on 4G.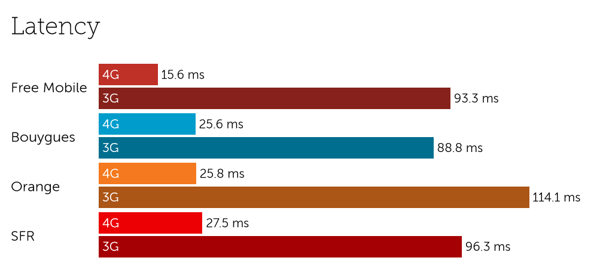 Orange score lowest packet loss and jitter
Orange, who posted revenues of €4.57 billion in the three months to September, also perform best for network stability, recording the lowest average scores for both packet loss and jitter. Bouygues also score in the lower half for jitter, but are let down by their packet loss results between July and September.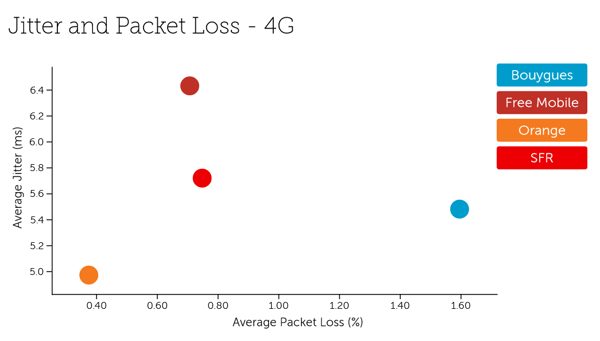 Our findings for France are based on 5.76 billion network quality measurements including 516 thousand speed tests between July and September 2018. Our latest complimentary Mobile Experience Report is available to download from the Tutela Insights portal.
---
Subscribe to our latest insights
Access Tutela Insights to view this complimentary report in full and subscribe below to get our latest insights in your inbox each week.