Orange, which has recently begun testing and developing 5G use cases with other French firms, lead Tutela's "excellent" consistent quality metrics, as well as network speeds and stability across the country. Free Mobile, who also performed best for latency - scored highest for overall consistent quality, suitable for tasks like browsing web pages, internet messaging and social networking.
Orange perform best for excellent consistent quality
Across the country, Orange demonstrated the highest percentage for "excellent" consistent quality, representative of more demanding use cases such as streaming HD video or making reliable group video calls, with 80.5% of tests between January and March meeting Tutela's threshold. Free Mobile, which recorded the lowest excellent consistent quality percentage, performed best overall for basic consistent quality, suitable for tasks like browsing web pages, internet messaging and social networking, just inches ahead of Orange at 98.4%. Click here for an explanation of Tutela's consistent quality metrics.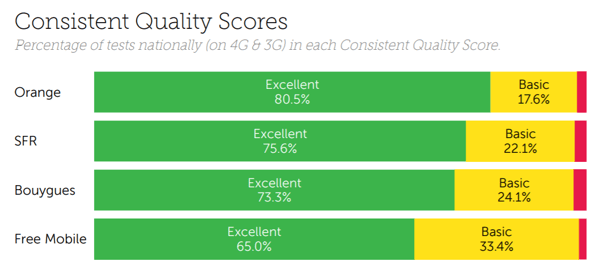 Orange also recorded the highest average download speeds
With an average result of 23.79 Mbps across both 4G and 3G, Orange top Tutela's rankings for the fastest download speeds in France. Bouygues place second with an average result of 20.08 Mbps, closely followed by SFR at 19.08 Mbps and lastly Free Mobile with a result of 12.99 Mbps. Download speeds for Orange raised to 27.63 Mbps across the country when we look at 4G only, and even further to 31.71 Mbps in Ile-de-France.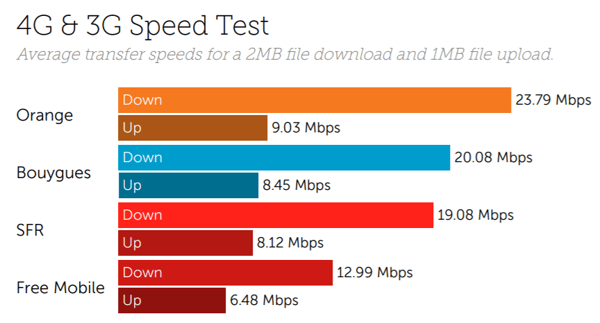 Free Mobile demonstrated the lowest latency on 4G
Scoring an average delay of just 14.4 ms on 4G, Free Mobile perform best for latency across the country. Orange, which has continuously performed best in Tutela's other tests including network stability, follow in second place, averaging 17.7 ms and is ahead of Bouygues and SFR respectively. Latency results improve for all operators in Ile-de-France where Free Mobile continue to lead and average 12.6 ms on 4G.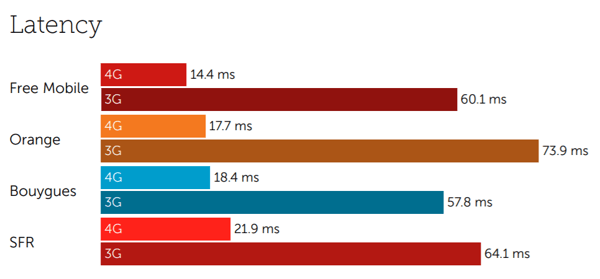 Our findings for France are based on 78.8 billion network quality measurements including 10.5 million speed tests between January and March. Our latest complimentary Mobile Experience Report is available to download from the Tutela Insights portal.
---
Subscribe to our latest insights
Access Tutela Insights to view this complimentary report in full and subscribe below to get our latest insights in your inbox each week.