March 2019
In El Salvador, Movistar take the lead for the fastest average download speeds on 4G, as Tigo perform best for upload speeds and also top our latency rankings across the country. Claro ranked third overall but show improved performance in Santa Ana, where it climbs the ranks for both download speeds and latency.
Movistar lead 4G speeds
Across the country, Movistar perform best for the fastest average download speeds scoring 6.90 Mbps based on nearly 13 thousand tests on the Movistar network alone. Tigo follow, ranking in second place with average download speeds across both 3G and 4G of 5.32 Mbps whilst Claro place third in El Salvador with an average result of just 4.79 Mbps. Splitting 4G and 3G results shows Movistar reaching 4G speeds of 11.84 Mbps and 11.82 Mbps in La Libertad and Santa Ana respectively. Claro also improve its performance in Santa Ana, ranking second with average 4G speeds of 9.35 Mbps.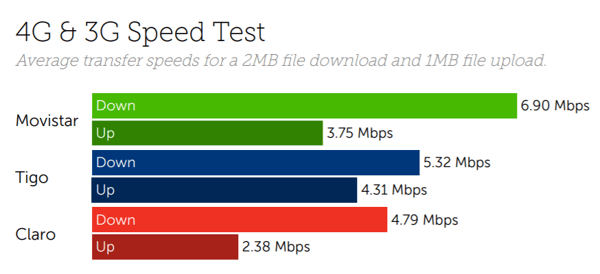 Tigo top upload speeds
On 3G and 4G, Tigo perform best for upload speeds - averaging 2.38 Mbps and 6.59 Mbps respectively. Movistar follow close behind on 4G with average upload speeds of 6.40 Mbps as Claro place third, similar to its download speed rankings, with a result of 5.22 Mbps on 4G. These results follow a similar pattern in San Salvador and La Libertad, but in Santa Ana Movistar take the lead averaging 6.88 Mbps for 4G.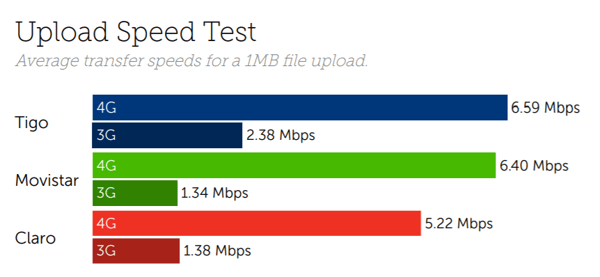 Tigo also perform best for latency
With an average result of 43.6 ms on 4G, Tigo lead our latest latency rankings based on crowdsourced data collected between December and February. Tigo lead across both generations as its 3G result of 80.3 ms also inches ahead of Movistar's 80.7 ms. On 4G, it's Claro which place second, just behind Tigo at 44.4 ms, although Claro do inch ahead in Santa Ana, where the results for latency are 42.9 ms and 45.3 ms for Claro and Tigo respectively.

Our findings for El Salvador are based on 2.39 billion network quality measurements including 327 thousand speed tests between December 2018 and February 2019. Our latest complimentary Mobile Experience Report is available to download from the Tutela Insights portal.
---