April 2018
Once again EE tops our download speed chart, averaging 22.55Mbps for a 2MB file transfer. Having recently completed the construction of its 90th brand new mass site in Scotland, we can clearly see a continued investment in infrastructure has helped to maintain their 4G network performance.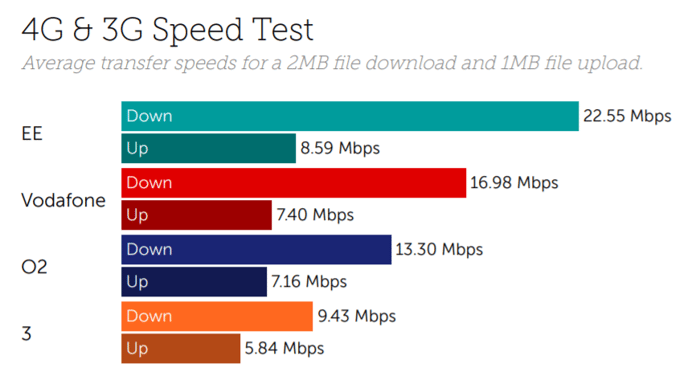 Although a recent customer satisfaction survey by Which? ranked Vodafone last for the second year running, our findings put them in second place for network performance in the UK, closely followed by O2. As O2 continue to roll out new mobile sites courtesy of their big win in the recent spectrum auction, 300 of which are earmarked for London, we expect download speeds to increase for them across the UK, potentially taking second place away from Vodafone in the not too distant future, certainly one to watch.
Even though Three's customers will worry less about data caps thanks to their 'Go Binge' plan that now includes Snapchat amongst others like Apple Music, our mobile speed tests puts them 4th with less than half the average download speeds of EE on 4G.
Vodafone are catching on latency

Our latency results show a similar story, with EE demonstrating the quickest average for a one-way trip ahead of Vodafone, O2 and Three respectively.
Vodafone, who also won in the latest Ofcom auction, plan to use their chunk of spectrum to "deploy 5G services, enable Gigabit speeds and lower latency", a move which could see them close the gap on rivals EE.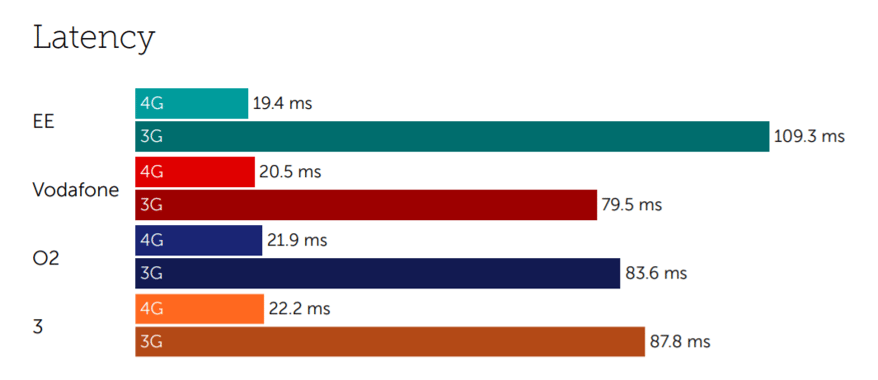 O2 deliver lowest jitter
Whilst O2 are still rolling out updates to their network thanks to their latest spectrum win, our tests show they're already leading other networks for average jitter, followed closely by Vodafone, Three and then EE.
However, they have a way to go to improve packet loss, a key metric of network stability.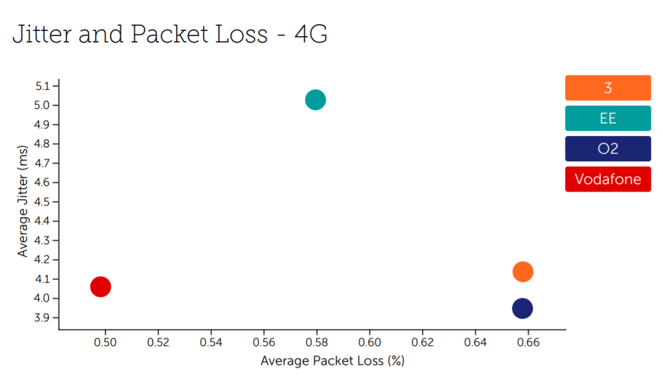 Our findings for the UK are based on 5.46 billion network quality measurements including 620 thousand speed tests between January and March 2018. Our latest complementary Mobile Experience Report is available to download from the Tutela Insights portal
Get the full report
Access Tutela Insights to view this complementary report in full