AT&T recently announced the completion of more than 2,500 upgrades to its Florida network that it undertook in 2019. This project focused on adding both reliability and capacity to the existing network, as part of AT&T's commitment to "keeping our customers and the state's first responders connected" according to Joe York, president, AT&T Florida and the Caribbean.

Tutela's data, visualized in our Tutela Explorer platform, can illustrate clearly the impact this has had. Looking just at average download throughput, AT&T's network offered a mean download throughput in Florida of 19.0 Mbps in Q4 2018, rising to 21.3 Mbps in 2019. A 2.3 Mbps improvement may sound small but represents an 11.9% improvement.
A significant feature in considering this change is how this places AT&T with respect to its competition. Compared to Verizon, the fastest network overall in Florida based on Tutela's data, in Q4 2018, the difference in average download throughput was 14.17%. Following the network upgrade, the difference has been shrunk to just 5.93%. This remarkable change leaves just 1.3 Mbps separating AT&T and Verizon.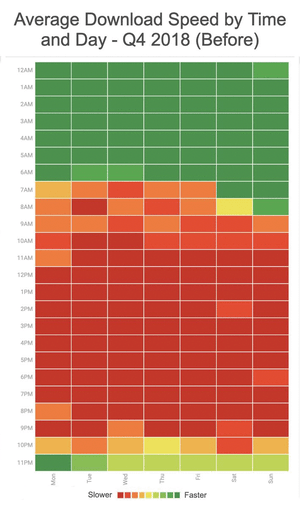 In particular, the impact on network capacity is striking. As the image on the right demonstrates, in Q4 2018, there was clearly visible differentiation in network performance by hour of day – a strong indicator that at peak times, additional users and traffic were leading to a degraded network performance. The heatmap for Q4 2018 shows predominantly red (slower) network performance during peak hours, with light green (faster) performance limited to night time between approximately 2 and 5am. In contrast, by Q4 2019, the drop in download performance at peak times is significantly reduced, and the network offers more consistent performance regardless of the hour. As a result, the heatmap shows significantly more fast (green) hours, and far fewer red (slow) ones.
With FirstNet being a significant feature of AT&T's network upgrade and deployment program, and Florida being no exception in this, it's interesting to see that the Band 14 spectrum does not appear to be a significant contributing factor in this upgrade. While the average download speed seen on the Band 14 network in Tutela's data improved when comparing Q4 2018 to Q4 2019, there are relatively few records on the spectrum – likely a result of the limited number of Band 14 compatible devices currently available. However, the extra bandwidth will no doubt be a pivotal feature in ensuring this capacity upgrade delivers results in the long run, and the low-band FirstNet spectrum helps guarantee AT&T's 4G coverage extends inside buildings and in difficult-to-reach areas.
As we head into 2020, no doubt the deployment stories we will see most often will be the early-stage implementations of 5G. However, with 5G device penetration still extremely low, it will likely be 4G deployments and upgrades that deliver the greatest short-term improvement to network performance for the most people. AT&T's work in Florida is a fantastic example of this.