May 2021
While the pandemic may have forced us all indoors for the past year and onto our phones, tablets, and computers for connectivity to the world, mobile operators in the DACH region pushed forward to continue providing the best mobile experience they can to their users.
5G continues to progress well in the region, with A1 Austria recently awarding Nokia with a contract to provide the country with this new coverage. In Germany, while Vodafone recently upgraded 1000 of its sites to 5G standalone (SA) network in 170 cities and municipalities through its 3.5 GHz spectrum, Telefonica expanded its 5G coverage to over 30 cities using 3.6 GHz spectrum exclusively, aiming to cover 30% of the population by the end of 2021. Telekom's 5G network already covers 80% of the German population and plans to reach 90% coverage by the end of the year.
As a way to make sure German mobile users are ready for the 3G sunsetting scheduled for end of 2021, the likes of Telefonica Germany are offering smartphone deals to its customers that may still be relying on 3G. Telekom on the other hand, expanded 4G coverage by building LTE capacities at 1,690 locations as well as installing new LTE sites at 464 locations. Telekom and Telefonica also signed a letter of intent for an infrastructure sharing deal to improve 4G coverage in less visited areas called "gray spots". In the 5G era, it's a positive sign that operators are also taking efforts to strengthen and expand their LTE network coverage especially when a large number of the subscribers are still dependent on 4G as outlined further in the report. It will be interesting to see how these initiatives impact actual subscriber experience in the future.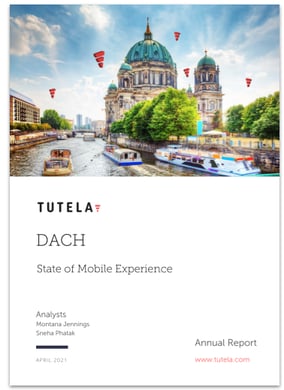 In order to benchmark mobile experience over the last six months, Tutela has evaluated over 12 million speed and latency tests, conducted on the smartphones of real-world users of national mobile operators within Common Coverage Areas, between October 1st, 2020 and March 31st, 2021.
Featured operators:
Austria - A1, Three, Magenta
Germany - Telekom, Vodafone, O2
Switzerland - Swisscom, Salt, Sunrise
---