Across Colombia, Tigo stands out as the operator with the best real-world upload and download speeds as Movistar sit in second place and Claro take the lead for the best latency of the operators. There are some shifts regionally, most notably in Bogota and Antioquia where Claro also lead upload speeds, but still sit in third for download speeds.
Tigo lead download speeds
Tigo perform best for real-world download speeds according to our latest crowdsourced results from August, averaging 10.06Mbps on 4G ahead of both Movistar and Claro. On 3G however, Claro inch ahead with the best average download speeds scoring 2.91Mbps, just ahead of Tigo at 2.81Mbps and Movistar at 2.53Mbps. Tigo reach our highest recorded average speeds in Valle del Cauca, where results from August on 4G scored 17.41 Mbps, far ahead of second place Movistar at 11.57 Mbps.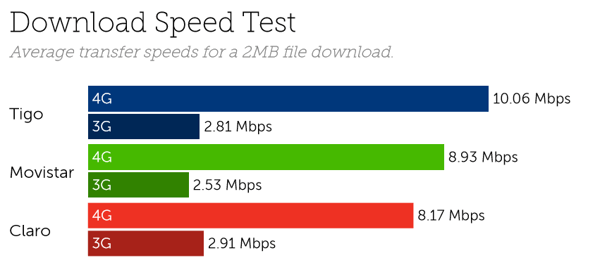 Tigo just pinch top spot for upload speeds

Upload speeds are closer to call in Colombia, with Tigo coming out again in first place but only just, averaging 5.38Mbps compared with second place Movistar at 5.36Mbps and third place Claro at 5.33Mbps. However in Bogota and Antioquia, Claro take the lead for upload speeds, averaging 5.48Mbps and 5.41Mbps respectively.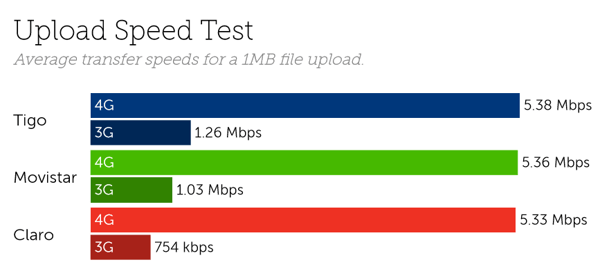 Claro top latency

Just ahead of Tigo, Claro lead our latest latency tests for August, with an average score of 51.2ms on 4G. Tigo does however take first place on 3G, scoring 121.8ms as Movistar place third on both 3G and 4G overall.

Our findings for Colombia are based on 7.51 billion network quality measurements including 518 thousand speed tests between May and July 2018. Our latest complimentary Mobile Experience Report is available to download from the Tutela Insights portal.
---
Subscribe to our latest insights
Access Tutela Insights to view this complimentary report in full and subscribe below to get our latest insights in your inbox each week.