April 2020
In these unprecedented times, people are looking to their government and industry leaders for guidance as the world is told to stay indoors and find comfort in community connection via the internet. It's more important than ever to have the best mobile plan with quality data at everyone's fingertips, and narrow that digital divide gap through implementing better infrastructure.
In Chile, telecom operators here as well as across Latin America are strengthening their networks to keep up with the incoming tide of demand and providing benefits such as free social apps to ensure people are entertained at home. In regards to demand for 5G, this has been a slow burn with the Chilean regulator only opening this up for public consultation back in January of this year while other countries started deployment in 2019.
However, Chile is deemed to have the most modern telecom infrastructures in place out of other countries in Latin America and could easily pave the way for the most effective deployment of 5G and set the benchmark for other countries to follow suit. For now, Chilean operators can continue to focus on providing the very best performance on their current 4G networks, and we can see the four big telcos are doing just that in the results below.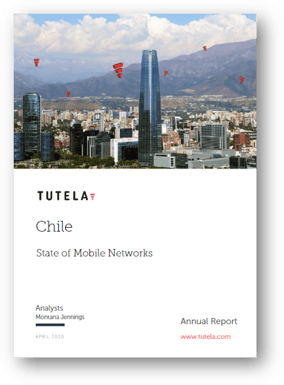 In this State of Mobile report, Tutela has collected and analyzed over 7 million speed tests, 136 million latency tests, and over 1.6 billion total mobile records between September 1st 2019 and February 29th 2020 to build a complete picture of mobile network experience across the country.
---