March 2021
As more people adapted to working from home and having to find new ways to keep in contact with loved ones throughout 2020, Chile saw a significant surge in demand for both mobile and fixed internet. The regulator's announcement of a surge in new mobile internet lines (about 1.3 million new connections) between September 2019 to Q3 2020 demonstrates the growing importance of reliable internet in today's connected world.
At the same time, Chile recently concluded its 5G spectrum auction, reportedly the first in Latin America. In Tutela's 2020 Global Experience Report, Chile ranked 82nd in both the Excellent and Core Consistent Quality. On a continental level this ranking was fifth amongst South American countries for Excellent Consistent Quality, and seventh for Core Consistent Quality. With this in mind, a competitive lead for 5G could be a differentiator in both driving improved connectivity for the growing mobile user base in the country, as well as setting a path to regional leadership for telecoms – if operators can make the most of their new spectrum holdings.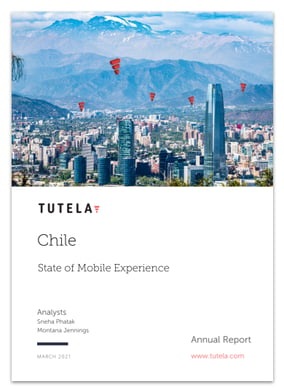 For this analysis of mobile network experience across Chile, Tutela has analyzed over two million speed and latency tests taken from real-world smartphone users, collected between September 1, 2020 and February 28, 2021.
---