July 2018
Across Chile, Entel are at the top of both our download and upload speed charts for the last three months, with average download speeds on 4G of 12.76Mbps. In Santiago and Valparaíso, Entel lead second place Movistar by 5.56Mbps and 5.35Mbps, scoring average download speeds on 4G of 13.06Mbps and 13.04Mbp respectively. Movistar look to be closing the gap in Biobio, but still trail Entel by 3.68Mbps.
Entel are working to further improve download speeds in the region, having recently held a successful 5G demonstration together with Ericsson, reaching download speeds of 25Gbps, the highest speeds achieved so far in South America.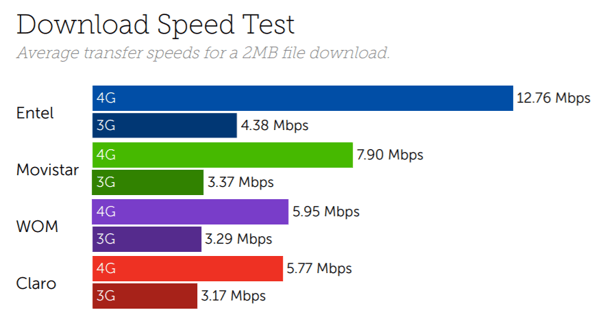 WOM perform best for latency

WOM, who recently reached 4mn subscribers in Chile, performed the best in our tests for latency, with the average one-way trip time for packets sent from our user devices to our test servers at 48ms on 4G. Movistar and Entel both followed close behind, however Claro recorded average latency of 141.7ms - well and truly cementing their fourth place position.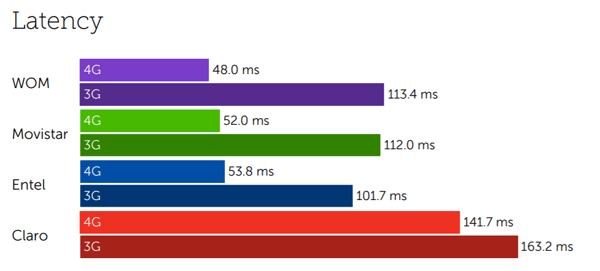 All operators struggle with network stability
Although performing best for latency, WOM returned the highest levels of packet loss among the four network operators. Claro, who placed fourth in latency, achieved the lowest packet loss figures, but are let down by the high amount of jitter recorded from our user devices.
Movistar, who rank in the middle of our mapped chart for jitter and packet loss, could at least see network call stability improving in the near future, as they become the first operator in Chile to enable VoLTE for their customers, initially rolling out to a select number of regions and reaching the rest of the country in the second half of 2018.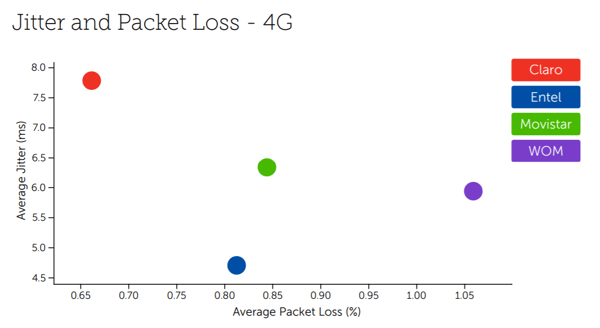 Our findings for Chile are based on 7.37 billion network quality measurements including 529 thousand speed tests between April and June 2018. Our latest complimentary Mobile Experience Report is available to download from the Tutela Insights portal.
Get the full report
Access Tutela Insights to view this complementary report in full