January 2019
As Entel continues to expand its mobile network coverage across Chile, including a recent launch of mobile broadband in Alto Hospicio, it also leads our overall network ranking, based on crowdsourced tests gathered between October and December 2018. WOM consistently placed second for speed and latency, as well as delivering improved network stability across the country.
Entel performs best for average download speeds
Across Chile, Entel leads our latest crowdsourced download speed tests, averaging 12.49 Mbps based on more than 235,000 download tests on the Entel network. With average speeds between October and December last year of 7.61 Mbps, WOM placed second across the country, closely followed by Movistar and Claro - which averaged 6.65 Mbps and 5.22 Mbps respectively.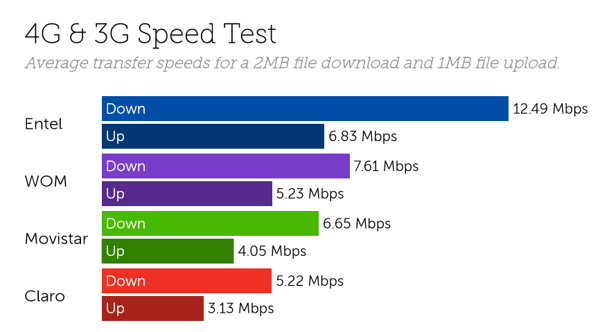 Entel also leads upload speeds
Averaging 8.11 Mbps on 4G and 2.09 Mbps on 3G, Entel also leads upload speeds for both network generations. WOM, Movistar and Claro follow, ranking second, third and fourth respectively overall across the country as well as in Santiago, Valparaíso and Biobio.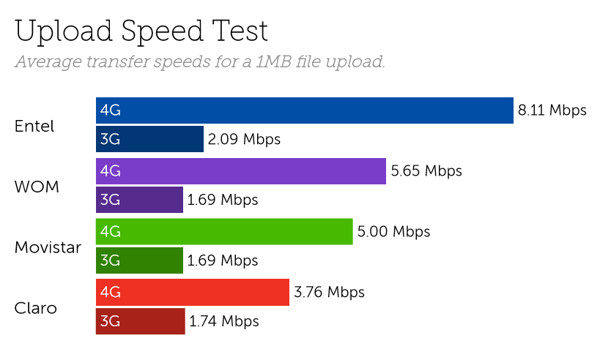 Claro performs best for packet loss as Entel demonstrates lowest jitter
On 4G, all operators suffer from some degree of jitter and packet loss. Claro demonstrated the lowest average packet loss of the group, but was let down by its relatively high jitter recordings. Similarly, Entel recorded the best average jitter for the last three months of 2018, but was let down by its relatively high packet loss. Both Movistar and WOM appear somewhere in the middle, with Movistar's network stability showing improvements in Valparaíso.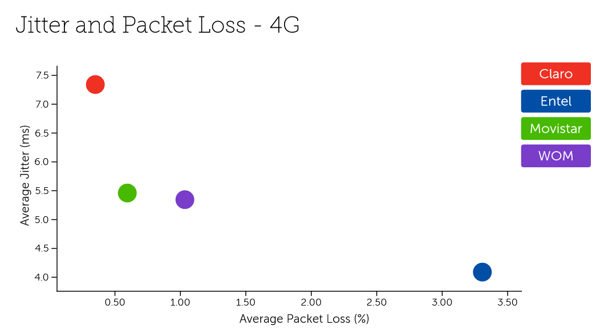 Our findings for Chile are based on 25.4 billion network quality measurements including 2.5 million speed tests between October and December 2018. Our latest complimentary Mobile Experience Report is available to download from the Tutela Insights portal.
---