September 2018
One operator stands out in Chile, as Entel lead our latest findings for download speeds, upload speeds and latency. Movistar place consecutively second and close the gap in Biobio, but it's not enough to catch Entel who average 4G download speeds of 13.35Mbps in the region.
Entel lead the 4G race
Entel dominate download speeds on 4G, with average results of 13.23Mbps based on more than 75 thousand speed tests on the Entel network. Movistar, who place second of the group, average just 7.66Mbps on 4G, but are still ahead of both Claro and WOM, who score 6.11Mbps and 5.80Mbps respectively. Entel lead each of our regional reports for download speeds, scoring highest averages in Santiago, where they reach 13.45Mbps on 4G, almost double that of second place Movistar.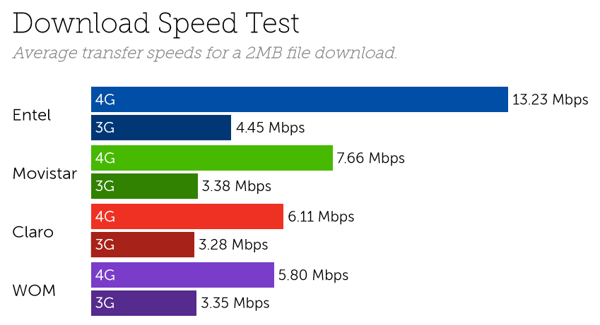 Latency is closer to call
Our latency results show a closer race, although still lead by Entel who score 43.7ms on 4G. Second place Movistar and third place WOM are close behind with scores of 49.3ms and 50.1ms respectively, however Claro, who suffered a significant national outage earlier this month, are well and truly held to fourth place with a latency score of 136.7ms, more than three times that of leaders Entel.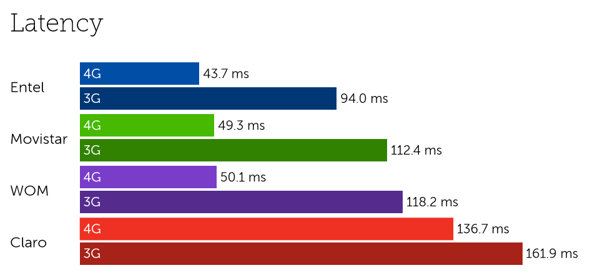 Network stability issues for all operators
Each operator in Chile suffers from an amount of jitter or packet loss, a key metric for network stability. Although Movistar and Claro perform well for low packet loss, they're both let down by high levels of jitter. Comparatively, Entel demonstrate low levels of jitter according to our latest findings but are let down by high packet loss. WOM, who also suffered a drop in mobile services affecting several regions earlier this month, unfortunately suffers from both high jitter and packet loss, scoring the highest average packet loss percentage of the group.
Our findings for Chile are based on 12.5 billion network quality measurements including 815 thousand speed tests between June and August 2018. Our latest complimentary Mobile Experience Report is available to download from the Tutela Insights portal.
---