April 2020
While some wireless network operators around the world spent 2019 rolling out commercial 5G deployments, Canadian operators instead spent the year cementing their position at the forefront of 4G networks.
Billions of dollars were spent acquiring new valuable low-band spectrum, unlimited plans emerged for the first time in the LTE era, and average download speeds increased across the board.
Looking forward, it's clear that the industry is primed for yet more disruption. The Canadian government made clear in recent announcements that it's after an aggressive decrease in consumer prices, and has raised the spectre of wholesale MVNO pricing or spectrum license conditions as potential remedies to do so. But while the affordability and value-for-money of Canadian wireless plans remains a hotly-debated topic, one thing is clear: it's one of the best times in memory to be a Canadian wireless subscriber. Networks are faster and cover more area than ever before, unlimited plans have drastically reduced the incidence of overage charges, and the growth of challenger and regional networks has given a majority of Canadians at least four network operators to choose from.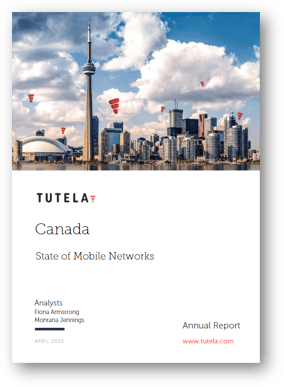 To best evaluate the mobile experience and inform subscribers, Tutela has evaluated 3.9 billion records in Common Coverage Areas across Canada, including 44 million speed tests and 541 million latency tests, collected from over 900,000 smartphones between September 1, 2019 and February 29, 2020.
---