March 2021
COVID-19 has driven an unprecedented change for Canada's telecoms operators: millions of people switched from a commute-to-the-office, travel-for-weekends approach, driving near-overnight changes in network usage. Planned 5G investment has been delayed, while mobile networks in some areas — suburbs that have had to handle a surge in working from home, for example — have been under strain in a way they were never designed for.
Nonetheless, Canada has retained its status as a world leader in mobile network performance. In Tutela's 2020 Global Mobile Experience report, Canada ranked fourth for median download speed – just behind Switzerland, Singapore and the Netherlands. However, that is not to say that the landscape is without its challenges. While Canada did well in Tutela's mobile experience comparisons (ranking 26th for Excellent Consistent Quality, and joint 23rd for Core Consistent Quality), there is still room for improvement when it comes to user experience.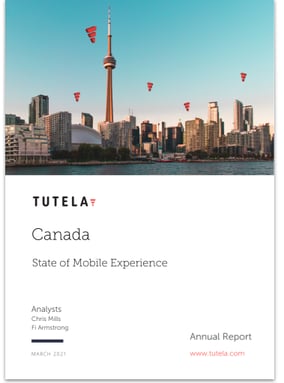 In order to benchmark mobile experience over the last six months, Tutela has evaluated nearly 900,000 speed and latency tests, conducted on the smartphones of real-world users of national mobile operators within Common Coverage Areas, between September 1st 2020 and February 28th, 2021.
---