Our latest crowdsourced results collected in August aren't too dissimilar to those of the previous month, as both Bell and Telus perform well for download speeds whilst Freedom Mobile top upload speeds and latency across Canada. Results are also similar regionally, with Telus performing best for speeds in Quebec as Bell lead in Alberta and Ontario.
Bell and Telus lead download speeds
With average download speeds of 20.21Mbps across both 3G and 4G, Bell top our latest crowdsourced tests from August. Telus follow closely in second place with average download speeds of 18.49Mbps, ahead of SaskTel, Rogers and Freedom Mobile. When we look at 4G only however, Freedom jump to third place ahead of both Rogers and Sasktel who take fourth and fifth place respectively, and Telus lead in Quebec, averaging 22.67Mbps ahead of Bell at 20.22Mbps.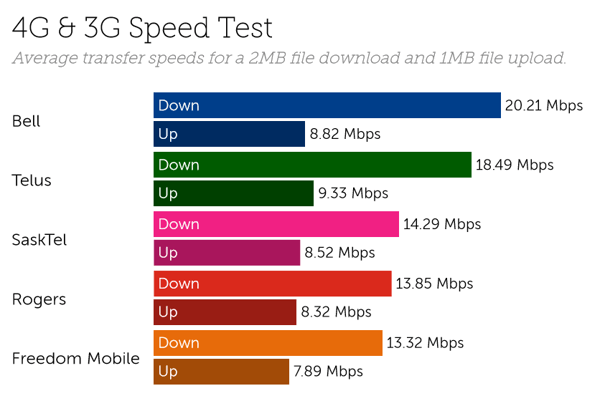 Freedom top our upload speed table
In a reversal, Freedom lead our average upload speed tests on 4G, scoring 10.55Mbps in August from almost 17 thousand tests on the Freedom network. Telus take second place across Canada for 4G upload speeds followed by Bell, Rogers and SaskTel. Telus also take the lead in Quebec where they perform best for download speeds as Freedom drop to fourth place.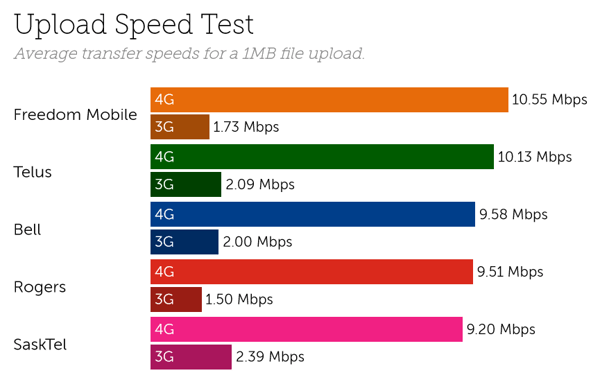 Freedom also lead latency
As well as leading our upload speed table, Freedom Mobile also lead latency across Canada. Our crowdsourced results from August show Freedom score best on both 3G and 4G, with scores of 66.3ms and 22.7ms respectively. Telus take the lead in Ontario, but only manage to hold on to second place in Quebec where they've scored so well on other metrics.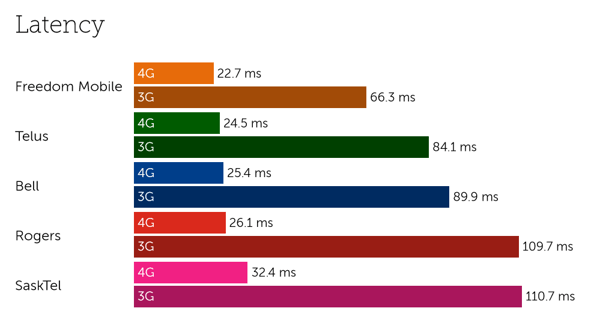 Our findings for Canada are based on 9.62 billion network quality measurements including 766 thousand speed tests between June and August 2018. Our latest complimentary Mobile Experience Report is available to download from the Tutela Insights portal.
---
Subscribe to our latest insights
Access Tutela Insights to view this complimentary report in full and subscribe below to get our latest insights in your inbox each week.