Across Canada, Bell reported the fastest average download and upload speeds of the leading mobile network operators according to our latest report based on data collected in October. Videotron leads overall latency, but Freedom steps up in British Columbia where it also ranks first for upload speeds.
Bell leads download speeds
Across both 3G and 4G, Bell tops our latest download speed results from October, with average speeds of 27.11 Mbps. Videotron takes second place, scoring 17.67 Mbps, closely followed by Telus, Rogers and Freedom, which scored 16.16 Mbps, 14.59 Mbps and 13.58 Mbps respectively. In both Quebec and British Columbia, Bell breaks the 30 Mbps mark for download speeds, just falling shy in Ontario where it placed first with average speeds of 28.44 Mbps.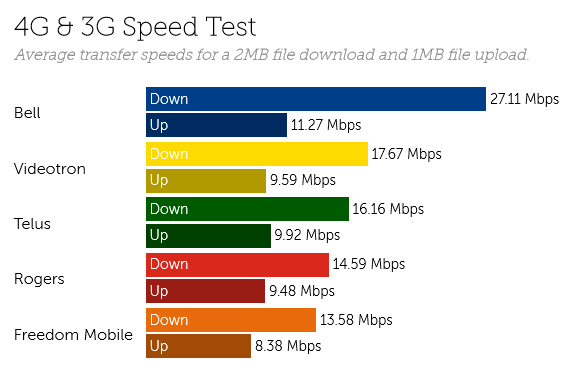 Bell also tops upload speeds
Compared with download speeds, upload speed results from October are much closer amongst the leading operators, with Bell again taking first place in our rankings, averaging 11.99 Mbps on 4G, followed by Rogers, Telus, Videotron and Freedom which each score in the 10 Mbps range. In British Columbia, Freedom moves from last place to first for upload speeds, averaging 12.02 Mbps on 4G, ahead of Bell which achieved an average of 11.93 Mbps.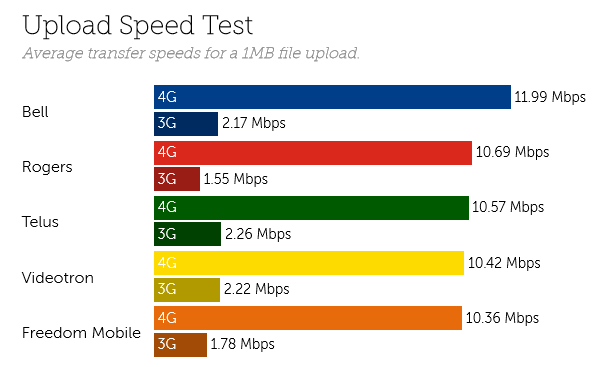 Videotron lead latency
Videotron tops our latency tests from October, coming in ahead of Telus with average results of 16.0 ms on 4G. Freedom places third and Bell drops to fourth averaging just 21.7 ms and 23.2 ms on 4G respectively. Freedom, which recently announced a new promotion that gives customers 100 gigabytes of extra data when they exceed their normal plan, also leads latency in British Columbia where its average results jump from 21.7 ms to 15.1 ms on 4G.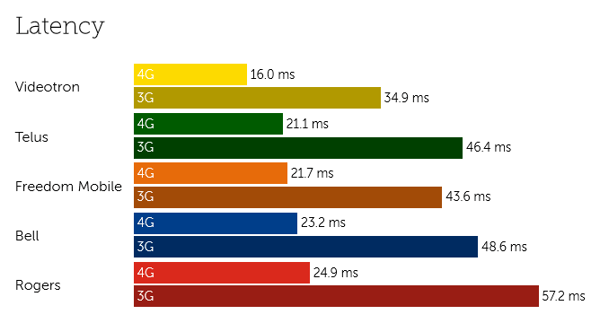 Our findings for Canada are based on 9.76 billion network quality measurements including 895,000 speed tests in October 2018. Our latest complimentary Mobile Experience Report is available to download from the Tutela Insights portal.
---
Subscribe to our latest insights
Access Tutela Insights to view this complimentary report in full and subscribe below to get our latest insights in your inbox each week.