August 2018
Our crowdsourced results for August show considerable regional differences across Brazil as no one operator stands out to claim the best network. Claro lead 4G speeds overall but lose out to Vivo in São Paulo and Minas Gerais. TIM, who place fourth for 4G download speeds, lead download and upload speeds on 3G as well as latency.
Claro top overall download rankings as TIM leads 3G
Claro lead download speeds across both 3G and 4G for the whole of Brazil, with an average score for August of 7.11Mbps. Following closely in second place is TIM, who average 6.59Mbps ahead of both Vivo and Oi. On 3G however TIM lead the group for download speeds, but are let down by their fourth place position for 4G speeds where they manage just 8.51Mbps. Vivo also manages to take the 4G top spot in São Paulo and Minas Gerais, with average download speeds of 12.01Mbps and 9.96Mbps respectively, although Claro keeps hold of first place in Rio De Janeiro where Vivo place fourth.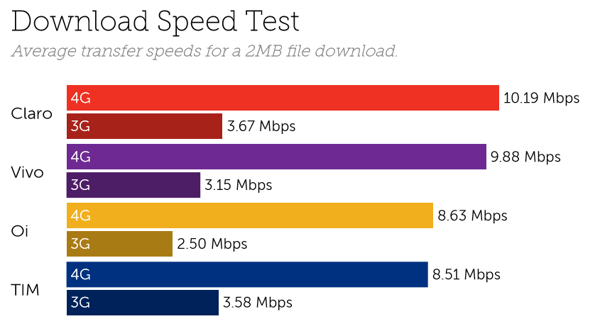 TIM and Vivo lead upload in key regions

Claro lead upload speeds on 4G across Brazil but lose out to TIM in São Paulo where they're pipped to the post by just 0.06Mbps. Notably, TIM have recently activated 4G services on the 700MHz band in Ribeirao Preto and Franca, resulting in a 30 percent increase in 4G traffic in less than a month, and an investment which looks certain to maintain their first place position for the region. Claro also lose out to Vivo in Rio de Janeiro and Minas Gerais where they place second ahead of TIM and OI.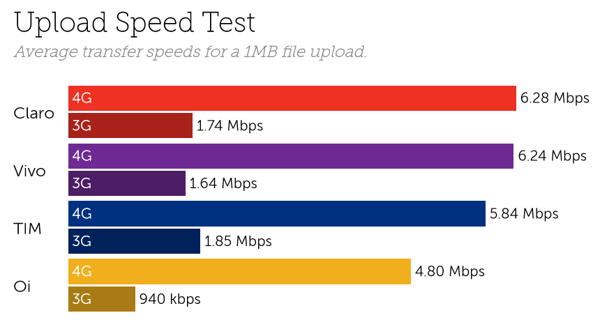 TIM perform best for latency
TIM top our latency rankings on both 4G and 3G with results from August of 26.0ms and 59.9ms respectively. Claro, Vivo and Oi rank closely for second, third and fourth place, but it's Oi, whose focus looks to shift to fixed-line broadband with the recent installation of high-speed broadband services in 21 cities throughout Brazil, who bring up the rear again for latency.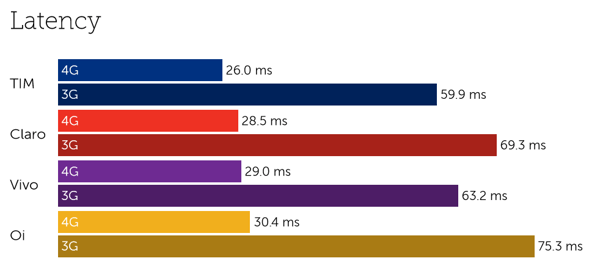 Our findings for Brazil are based on 47 billion network quality measurements including 4.92 million speed tests in August 2018. Our latest complimentary Mobile Experience Report is available to download from the Tutela Insights portal.
---