June 2020
Industries across the world are assessing the risk and reward on how to safely open up business again; and in the telecom industry, where strong internet services quickly became a necessity during this pandemic, the assessment lies around whether it is a good time to invest in technologies again, whether it is wise to acquire or merge new business, and whether operators had met or fallen short of its financial targets.
These questions are noticeable in Brazil as operators pivot any initial plans to improve mobile offerings by focusing on whether fixed broadband needs more work instead.
Telecom Italia (TIM) and Telefonica have also broached the idea of jointly buying out cash-strapped Oi as a way of stamping out more of the competition in Brazil but to continue as independent entities. Many 5G deployment plans and auctions in 2020 have also been put on hold across the world, however for Brazil these auctions were already delayed well before the pandemic hit due to the countries allegiance to the USA and the pressure to not pursue help from Huawei with technology deployment.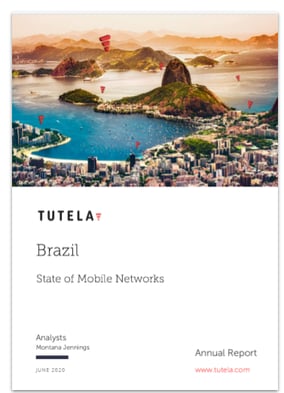 In this report, Tutela has evaluated 21 billion
records in Common Coverage Areas across
Brazil, including more than 220 million
speed tests and 2.8 billion latency tests,
collected between November 1, 2019 and
April 30, 2020.
---