June 2021
While some mobile operators around the world relish in their early success with implementing 5G technologies, in a pandemic nonetheless, others have had to readjust their timelines and priorities to best cater to what customers need right now. Connectivity, and the need for it to be ready and reliable to all, was the main focus for the likes of the Brazillian telecoms industry over the past year.
A complete implementation of 5G technology will be a slow-burn for Brazil, with the country's regulator expecting to publish the business plan for it by mid-2021 under which operators will be required to deploy a standalone network by 2022. While this is being worked on, operators have continued to implement 4G technologies with the likes of TIM Brazil activating 4G in over 4,000 cities by April 2021. By bringing subscribers closer to newer technologies, the intention is for TIM Brazil in particular to begin shutting down its 2G network in 15 cities as a trial this year. Doing this comes with its own challenges however as operators still receive a considerable amount of revenue from its subscribers on 2G, the cause being that subscribers in Brazil are faced with purchasing expensive smartphones as they are upgraded to new technology, thus opting instead to stick with what they have.
In August 2020, the fourth Brazilian operator Oi selected TIM, Claro and Vivo as its acquirers as the operator shifts its focus to the broadband and digital side of the business, beginning with offering fibre in Sao Paulo. Now five months into 2021, this 'potential' sale of Oi's mobile assets to each Brazilian operator continues to stumble along with resistance, this time critics pointing out the risks of having a concentrated market with only three operators active in the country and each receiving an uptick in subscribers.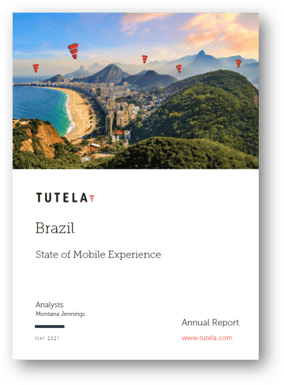 In order to benchmark mobile experience over the last six months, Tutela has evaluated over 29 million speed and latency tests, conducted on the smartphones of real-world users of national mobile operators within Common Coverage Areas, between November 2020 and April 2021.
---