March 2021
In the latest Mobile Experience Snapshot for Brazil, Claro dominated in all five of the metrics tested, including the highest Excellent Consistent Quality, fastest download speeds, and most responsive network.
Claro had highest Excellent Consistent Quality
In Common Coverage Areas across Brazil, Claro had the highest Excellent Consistent Quality with 71.4% of connections having a network experience suitable for use-cases like 1080p video streaming, real-time mobile gaming and HD video calling. Vivo was in second place with 5.9% separating the operator from first place Claro, while TIM was in third place with an Excellent Consistent Quality of 61.2%. Oi had the lowest Excellent Consistent Quality in the country with 43.7%, 27.7% behind first place Claro.
For Core Consistent Quality, Tutela's metric for when a connection is good enough for web browsing, social media sharing and SD video streaming, no operator reached the 90% threshold; however, Claro and Vivo statistically tied for first place with a Core Consistent Quality just over 86%. TIM was close behind with 83.7%, while Oi was in fourth place with 74.9%.
You can learn more about Tutela's consistent quality metrics here.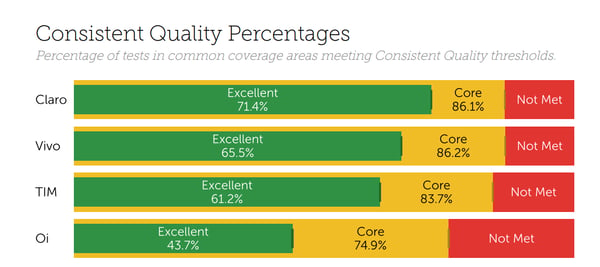 Claro had fastest download and upload speeds
Claro dominated in the download speed test, with a median transfer speed of 18.6 Mbps, 4.5 Mbps faster than second place Vivo and 10 Mbps faster than last place Oi.
For uploads, Claro was in first place with a median transfer speed of 8.7 Mbps, followed by Vivo at 7.1 Mbps and TIM in third place at 6.9 Mbps. Oi was in last place with a median upload speed of 5.3 Mbps, 3.4 Mbps slower than first place Claro.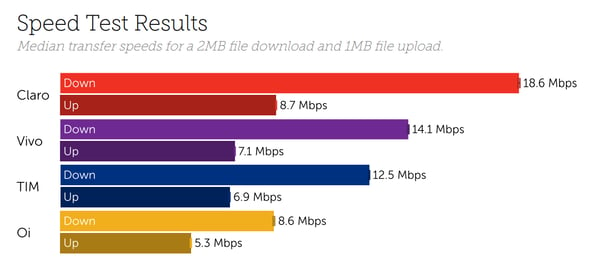 Claro latency performed best
Claro had the most responsive network in Common Coverage Areas across Brazil with a one-way latency result of 18.5 ms, however both TIM and Vivo were close behind with only 0.2 ms and 0.9 ms difference, respectively. Oi had the least responsive network with 5.6 ms difference between the operator and first place Claro.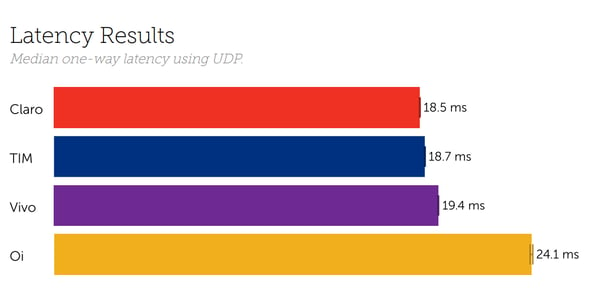 Our findings for Brazil are based on 262 billion network quality measurements including 16.5 million speed tests between November 2020 and January 2021. Our latest complimentary Mobile Experience Report is available to download from the Tutela Insights portal.
---