September 2018
In our September 2018 report for Brazil, we have seen a shift in leadership for 4G download speeds, as Vivo overtake Claro to claim the top spot. The state of Brazil's mobile network operators has remained relatively stable aside from this, as Claro continues to lead the pack for upload speeds, and TIM retain the lead in our tests for latency.
Vivo overtakes Claro for 4G download speeds
As it has in all our reports for 2018, Claro has claimed the top spot for the combined speed test, which measures the average download speed over 4G and 3G. When looking at solely 4G results, however, Claro has lost its advantage, with Vivo edging into the top spot with a 9.98 Mbps average.
When compared to the report in March, it appears that Claro's network is struggling, as the average 4G download speed has decreased from 12.32 Mbps in March to 9.84 Mbps in September. TIM's 4G speeds have seen a modest improvement since March to take third place, while Oi has also suffered a slowdown.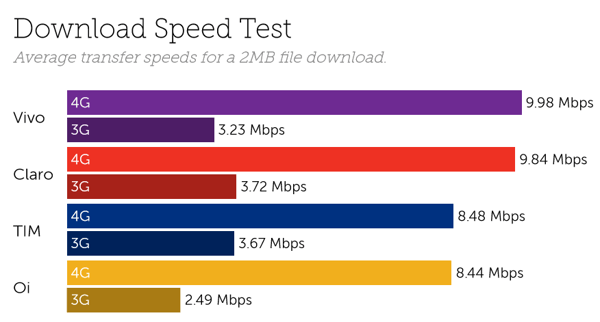 Vivo upload speed drops while Claro improves
Claro topped our upload speed test for September across Brazil, with a result of 6.54 Mbps, while Vivo's average 4G upload speed dropped compared to its result in March, falling to 5.92 Mbps from its previous high of 6.17 Mbps. TIM also saw a significant drop, from 5.76 Mbps to 4.19 Mbps, while Oi remained nearly identical.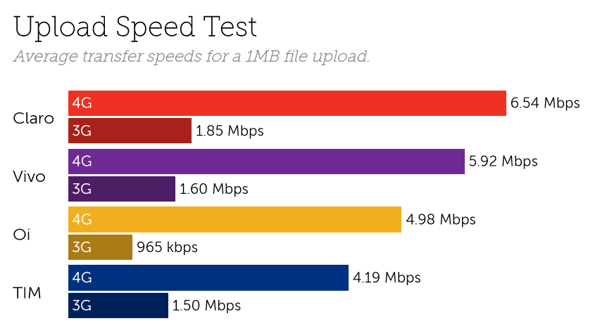 Claro's latency improves, but TIM stays on top
Claro's latency has seen a dramatic improvement since our March report, with 4G latency down from nearly 80 ms to 30.4 ms. 4G latency was consistent across all operators in Brazil in the September report: TIM led the pack with an average latency of 25.4 ms, but there was only a gap of 5 ms to Claro, which was in fourth place. 3G latency was a similar picture of consistency, with 15 ms separating TIM's first-place result and Oi.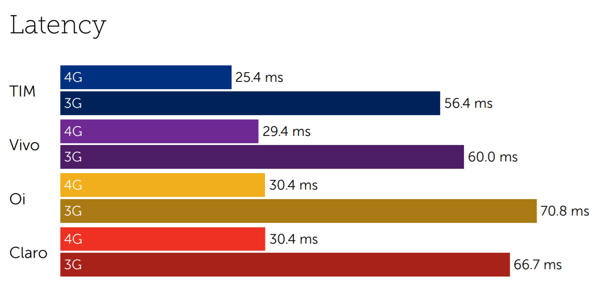 Our findings for Brazil are based on 81 billion network quality measurements including 5.94 million speed tests in September 2018. Our latest complimentary Mobile Experience Report is available to download from the Tutela Insights portal.
---