February 2019
As TIM lead the number of 4G subscribers across Brazil, they also lead our latency results for January - but it's Claro that demonstrate the best network performance overall, leading average download speeds across both 4G and 3G as well as network stability across the country.
Claro lead download speeds
With an average result of 9.57 Mbps across both 4G and 3G, Claro lead our download speed tests based on data collected in January. Vivo and TIM follow in second and third place with average speeds of 8.14 Mbps and 8.07 Mbps respectively, as Oi place fourth averaging just 6.55 Mbps. Splitting our 4G and 3G tests show Oi inch ahead of TIM on 4G, averaging 9.67 Mbps compared to 9.56 Mbps, but its 3G speeds average just 2.62 Mbps. Vivo also manage to take the top spot for 4G download speeds in São Paulo, but drop to fourth in Rio de Janeiro where Claro retain the lead.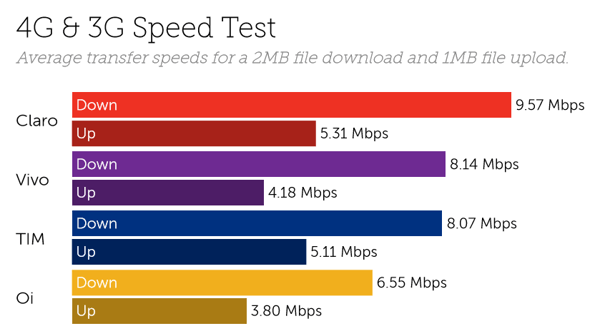 TIM top latency results from January
Averaging just 27.1 ms on 4G and 58.6 ms on 3G, TIM perform best for latency across Brazil, although results are close from January, as Claro, Vivo and Oi average 28.3 ms, 30.1 ms and 30.2 ms respectively on 4G. 3G results are more varied, as Vivo move up to second place and Claro drop to third. Oi's latency results greatly improve in São Paulo and Rio de Janeiro where they top our leaderboard with an average delay of just 14.8 ms and 16.6 ms respectively, but only manage 28.0 ms in Minas Gerais.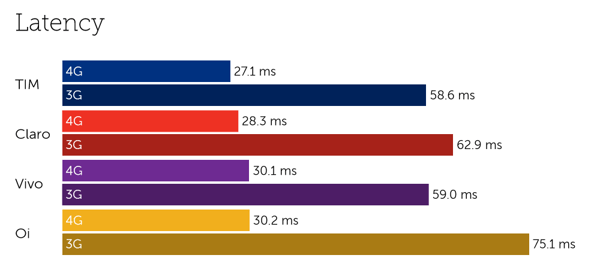 Claro and Vivo lead network stability

On 4G, Claro and Vivo both perform well for network stability in comparison to Oi and TIM. Claro demonstrate the lowest average packet loss of the group, as Vivo lead for lowest average jitter. These results are similar on 3G across the country, and as with download speeds - Vivo show improvements on both jitter and packet loss in São Paulo.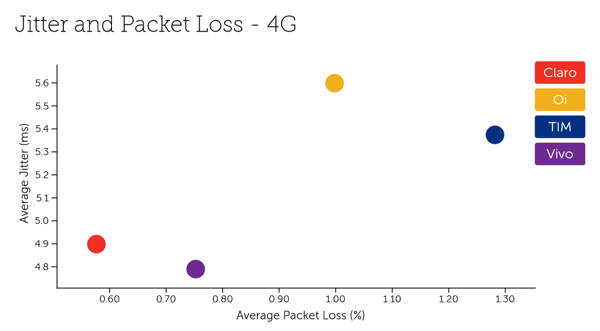 Our findings for Brazil are based on 115 billion network quality measurements including 31.8 million speed tests in January 2019. Our latest complimentary Mobile Experience Report is available to download from the Tutela Insights portal.
---