Since mobile number portability was activated in Bolivia in October, almost 80% of ported users have moved to Entel, and our crowdsourced results from November could show why - even though Tigo lead average speeds overall, Entel demonstrated the fastest 4G download speeds of the operators.
Tigo lead average download speeds
Tigo top our latest speed tests based on crowdsourced data collected in November, averaging 8.08 Mbps download speeds and 4.37 Mbps upload speeds across both 3G and 4G, mostly thanks to their 4G availability. Entel is close behind, averaging 7.51 Mbps for download speeds and 3.63 Mbps for upload and actually demonstrate faster speeds when we split the two generations, but their lack of 4G coverage means their average speeds are lower overall.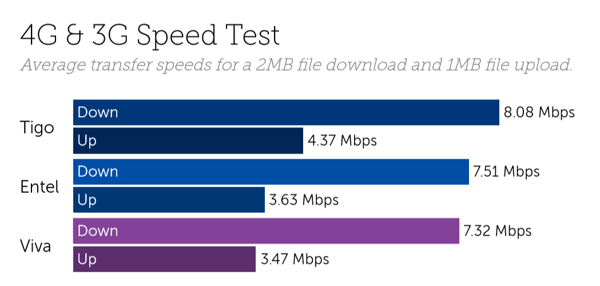 Tigo top 4G upload speeds
On 4G, Tigo also lead upload speeds, marginally ahead of Entel with average results from November of 5.54 Mbps compared with 5.34 Mbps across the country. Entel do take the lead in Santa Cruz however, and on 3G, Tigo drop to third place with average speeds of just 1.55 Mbps behind Entel and Viva respectively.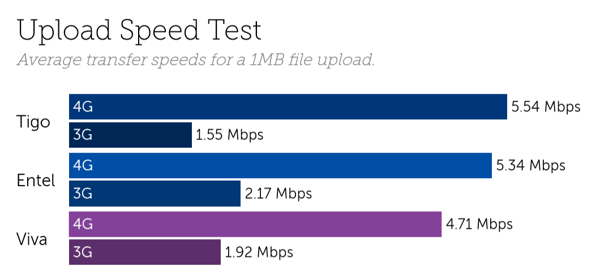 Entel lead latency on 3G and 4G
Ahead of Tigo and Viva, Entel demonstrated the best latency in Bolivia in November, with average results for the month of 64.1 ms on 4G and 94.3 ms on 3G. Interestingly, Entel's latency results on 3G were quicker than those of Viva on 4G, who averaged 114.3 ms. Entel retained the best latency results in Santa Cruz, Cochabamba and La Paz - where we recorded their quickest 4G results averaging just 56.7 ms.

Our findings for Bolivia are based on 2.85 billion network quality measurements including 260 thousand speed tests between September and November 2018. Our latest complimentary Mobile Experience Report is available to download from the Tutela Insights portal.
---
Subscribe to our latest insights
Access Tutela Insights to view this complimentary report in full and subscribe below to get our latest insights in your inbox each week.