December 2020
The Benelux region has traditionally had some of the best wireless networks in the world, and in 2020, that hasn't changed. Belgium, the Netherlands and Luxembourg all finished in the top five countries for overall mobile experience (Excellent Consistent Quality) in Tutela's 2020 Global Mobile Experience report.
However, this does not mean that the state of wireless networking is identical between the countries, especially as we look ahead to next-generation wireless technologies. Operators in the Netherlands were able to purchase some 5G spectrum this year, whilst delays in Belgium have seen the auction pushed to next year. Several operators in Luxembourg have 5G networks deployed and available to the public, although the networks expect it will be several years until coverage — especially with new, high-band spectrum — is widespread.
Once fully deployed across a wide range of spectrum, 5G promises to offer significant improvements to user experience, including lower latency, more capacity, and higher throughputs. This report suggests that in the last six months, users across Benelux have experienced a relatively similar — and generally excellent -- mobile experience. With the coming shifts to network technology and mobile use-cases thanks to 5G, it will be interesting to see if this remains to be the case going forwards.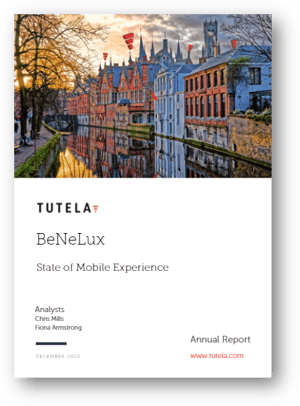 Tutela has analyzed over 2.8 billion total records taken from real-world smartphone users, including more than 4.7 million speed and latency tests, taken between May 1st and October 31st 2020.