Across Belgium, Proximus lead many of our network tests including download speeds. In Brussels, Proximus reached average download speeds on 4G of 32.98 Mbps, almost double that of Orange, who recently announced the city to be the first area where they plan to deploy 5G. Orange, however do perform best for latency and network stability across the country.

Proximus perform best on 4G for download speeds
Proximus lead download speeds averaged across both 3G and 4G with a result between September and November of 27.45 Mbps, averaged from more than 47 thousand download speed tests on the Proximus network. BASE are the second fastest network in Belgium according to our tests, averaging 20.30 Mbps in our latest report, followed by Orange which averaged 15.57 Mbps. Although Orange didn't perform as well on 4G, it did demonstrate the fastest 3G download speeds of the group, with average speeds of 7.37 Mbps compared with 6.39 Mbps for Proximus and 5.58 Mbps for BASE.

Orange lead latency on 4G
On 4G, Orange averaged latency delay for the three month period of just 18.3 ms, putting them ahead of Proximus (20.6 ms) and BASE (23.1 ms) respectively across Belgium. Orange's 3G performance (56.9 ms) was only just beaten by Proximus, who top our 3G latency rankings with an average delay of 56.2 ms. In East Flanders, Proximus tie with Orange on 4G, both recording average latency delays of 19.8 ms.

Orange perform best for network stability
With the lowest average results for packet loss and jitter of the operators, Orange also performed best for network stability in Belgium. Proximus also recorded low average levels of packet loss, but were let down by their high recorded jitter. Unfortunately, BASE recorded high levels of both on 4G, however do manage the lowest average jitter of the group on 3G.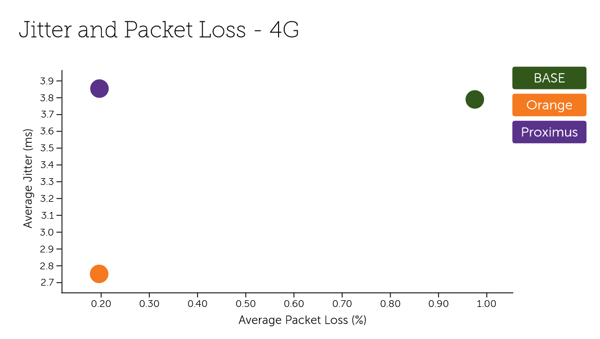 Our findings for Belgium are based on 2.56 billion network quality measurements including 252 thousand speed tests between September and November 2018. Our latest complimentary Mobile Experience Report is available to download from the Tutela Insights portal.
---
Subscribe to our latest insights
Access Tutela Insights to view this complimentary report in full and subscribe below to get our latest insights in your inbox each week.