July 2019
In Tutela's latest crowdsourcing report for Austria, 3 had the highest percentage of 'excellent' consistent quality with 86.2%. 3 also had the highest average download speed with 27.60 Mbps, and A1 recorded the lowest latency score on the 4G network with 17.1 ms. In April, 3 tested its 5G technologies in Vienna with an achieved speed up to 2.2 Gbps and we expect there to be many more tests in the coming months as the race to implement 5G heats up.
3 lead consistent quality
3 had the highest 'excellent' quality percentage with 86.2%, and a 99.3% overall basic consistent quality result. A1 came in second with 79.3% 'excellent' quality and surpassed the basic quality threshold with 99.3% basic quality. Followed closely behind in third, Magenta had a 76% 'excellent' result and the highest basic quality threshold with 97.4%.
You can learn more about Tutela's consistent quality metrics here.

3 leads average download speeds
3 also tops the highest average 4G/3G download speed with 27.60 Mbps. A1 had the highest average upload speed with 10.31 Mbps but narrowly landed in second place on the download speed test with only 26.52 Mbps. Magenta placed third for both download and upload speeds with an average of 21.74 Mbps and 8.27 Mbps respectively.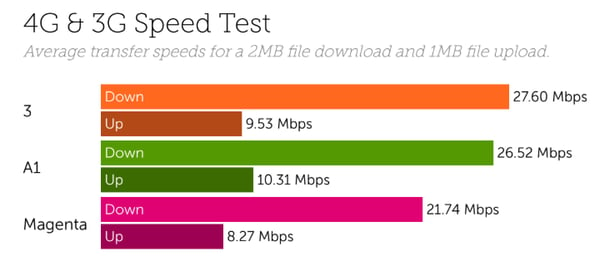 A1 leads latency
A1 achieved the best latency result on the 4G network with 17.1 ms, and on the 3G network with 35.9 ms. 3 and Magenta tie for second place on the 4G network with 20.4 ms, while on the 3G network 3 reported 44.6 ms for this quarter and Magenta came in close behind with 45.8 ms.

Our findings for Austria are based on 14.1 billion network quality measurements including 2.16 million speed tests between April and June 2019. Our latest complimentary Mobile Experience Report is available to download from the Tutela Insights portal.
---