January 2019
Tutela's latest crowdsourced report for Austria shows a close race for download speeds across the country, as A1 unveil Gmünd to be the first city where it will be rolling out its 5G network, 3 so far claim the lead for best average download speeds.
3 lead average download speeds
Across both 4G and 3G, 3 top our rankings for download speeds in Austria, averaging 21.84 Mbps from more than 50 thousand download tests on the 3 network alone. A1 follow closely in second place, averaging 21.14 Mbps whilst T-Mobile placed third with average download speeds between October and December of 18.43 Mbps. Splitting 3G and 4G results shows A1 leading 3G download speeds across the country, with average results of 9.30 Mbps ahead of T-Mobile and 3 respectively.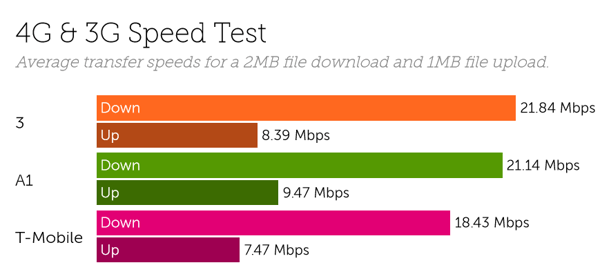 A1 top upload speeds
With average results on 4G and 3G of 11.67 Mbps and 2.94 Mbps respectively, A1 lead our latest upload speed tests. T-Mobile place third overall but inch ahead of 3 in Upper Austria on 3G, with average speeds of 2.46 Mbps compared with 2.44 Mbps for 3.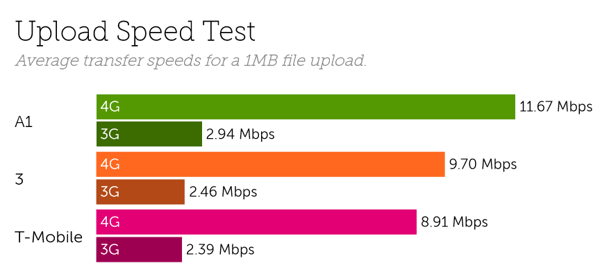 A1 also lead latency
As well as topping our upload speed tests for the last quarter of 2018, A1 also performed best for latency, averaging results of 16.9 ms on 4G and 39.4 ms on 3G, putting them ahead of both 3 and T-Mobile who scored very similar results across the country. 3 place second overall but T-Mobile again manage to inch ahead in Upper Austria with average 4G results of 19.9 ms compared with 20.9 ms for 3.

Our findings for Austria are based on 3.05 billion network quality measurements including 550 thousand speed tests between October and December 2018. Our latest complimentary Mobile Experience Report is available to download from the Tutela Insights portal.
---