October 2019
Argentina is at the forefront of mobile communications in South America, recently placing 1st in South America and 44th globally in Tutela's recent Global Mobile Experience report. The market for mobile subscriptions continues to grow - totalling 61.3 million by the end of 2019, and expected to grow to 66.3 million by the end of 2024.
Meanwhile, Argentinian operators continue to keep their eye on the 5G horizon, with early 5G trials in progress and a trial from Personal and Huawei in June of this year reaching download speeds of 700 Mbps, which the companies involved claim is the fastest download speed demonstrated in South America to date.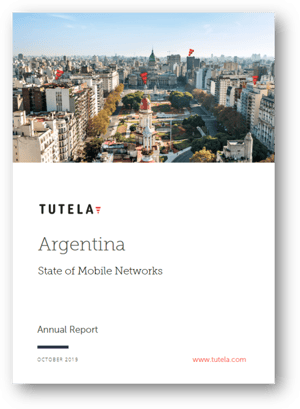 To see how the different national providers compared, Tutela analyzed more than 3.5 billion records, crowdsourced from more than 630 thousand iOS and Android devices across the country. These records included over 15 million speed tests and 285 million latency tests, collected between March 1st and August 31st, 2019.