November 2020
As the world economy is battling with the effects of the COVID-19 pandemic, some countries are suffering more than others. Argentina's economy was struggling even before the pandemic with a persistent budget deficit of around five percent and a substantial trade deficit. This economic struggle, marked by high unemployment and about 35 percent inflation, has led the government to categorize telecom related services such as cellular plans, home internet, and TV as 'essential services' and impose a price freeze on them.
Although a positive move for consumers, price freezes may negatively impact investments in telecom infrastructure - especially the rollout of 5G networks — as operators might be hesitant to invest unless they are confident of a positive return on investment. Nonetheless, a report from Ericsson suggests that the first 5G rollouts in South America would take place this year. However, specific details about the timeline for a 5G network deployment, particularly for Argentina, are not yet clear.
Although 5G services are not yet available, there have been improvements in wireless telecoms throughout the year. For example, HISPASAT, the Spanish satellite telecoms operator, signed an agreement with Claro Argentina to expand 3G and 4G connectivity in 250 rural communities providing them internet access "through a cellular backhaul service by satellite". Meanwhile, Camara de Cooperativas de Telecomunicaciones (Catel) is in the process of finalizing an agreement with Telefonica-owned Movistar to use its network for launching MVNO services(7), which can increase market competition.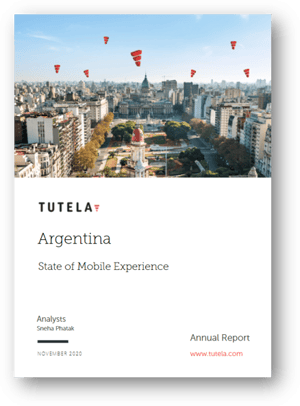 For this analysis of mobile network experience across Argentina, Tutela has analyzed over 2 billion total records taken from real-world smartphone users, including more than 18 million speed and latency tests, collected between April 1st and September 30th, 2020.
Click below to download the report in full.