Despite recent competition driving down the price of mobile data in the Philippines, the country remains an outlier for its love of Wi-Fi data. Smartphone owners used Wi-Fi for over three-quarters of their data use, relying on a mobile connection for just 23% of their smartphone data needs.
Smartphone owners in Malaysia utilize their mobile connection the most heavily, with cellular connections handling two-thirds of all smartphone data traffic. Indonesia was close behind with 63% of data going over 3G or 4G networks; Thailand ranked in a close third place, with a 60/40 split between cellular and Wi-Fi.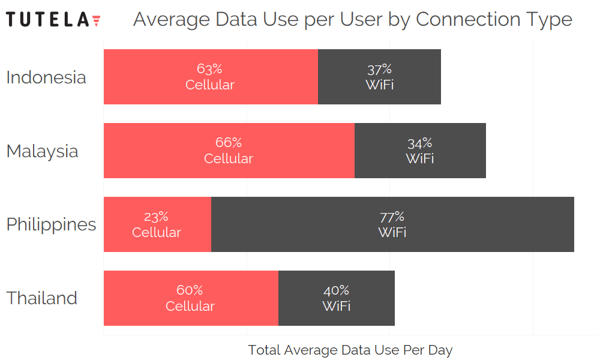 ---
When it comes to 3G versus 4G, Malaysia and Thailand are in a different category to Indonesia and the Philippines. In Malaysia and Thailand, around 40% of mobile data connections happened on a 3G network, while that number shrank to around 30% for Indonesia and the Philippines.
Notably, however, the advantage in 4G availability didn't pay off in speed or consistent quality for the Philippines and Indonesia. Of all the countries in the report, Malaysia -- which saw 40% of all tests happen on a 3G connection -- scored top for excellent network quality and download speed.
Among the operators that operate both 4G and 3G networks, TrueMove and AIS in Thailand lead the way in 4G availability, at 87% and 74% respectively. Telkomsel's 70% 4G availability is particularly impressive given the operator's geographic coverage: having better coverage than its competitors whilst also having a higher percentage of that coverage be on 4G is a difficult feat to pull off.