Download speed is most often used as a proxy for network quality, but while download throughput is important, it's just one of several crucial requirements for a "good" connection. At its most basic, a good connection is one that doesn't get in the way of users doing what they want to do. In the real world, smartphone users aren't running speed tests all day -- they're browsing the web, using apps, voice calling their friends, streaming Netflix and YouTube, or making video calls
To more objectively evaluate when networks are (and are not) enabling users to do those things, Tutela has developed a standard called consistent quality. The design of the standard is explained in further detail here. Simply put, it's two sets of thresholds, called "excellent" and "basic". If a connection hits the "excellent" standard, it's sufficient for the most demanding mobile use-cases, like HD video calling or 1080p video streaming. A "basic" connection is good enough for simple web browsing, emails, and VOIP calling, but users will experience delays or buffering when trying to use more demanding apps.
Tutela's consistent quality score simply measures the percentage of time that users -- whether for one operator or a whole country -- can hit the thresholds. The higher the number, the more often users have a basic or excellent connection.
Excellent quality:
4 Mbps down

2 Mbps up

0% packet loss

<30 ms jitter

<50 ms latency
Intended use cases: 4K video streaming, HD group video calling
Basic quality:
512 kbps down

128 kbps up

<5% packet loss

<50 ms jitter

<100 ms latency
Intended use cases: Web browsing, simple applications (Facebook, WhatsApp, email clients), VOIP calling
As the chart shows, all four countries in the report are relatively close when it comes to basic quality. Thailand takes first place, with users able to make a VOIP call or check emails at least 92.5% of the time when connected to one of the country's networks. Malaysia was a virtual tie for first place, at 92.3%, while the Philippines and Indonesia were a few percentage points behind.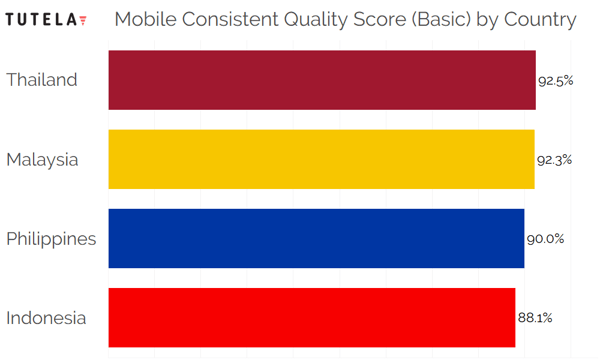 It's when looking at excellent quality that we see the greatest differences between countries. Malaysia's networks achieve the best excellent quality by far, with 56.9% of connections meeting the needs of the most demanding uses. Thailand is in second place, with Indonesia and the Philippines coming in third and fourth.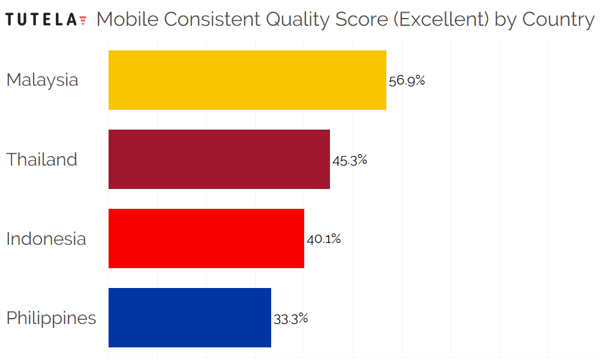 ---
Malaysia
In Malaysia, three of the four operators score above 90% for basic consistent quality, with Maxis just taking first place ahead of DiGi and U Mobile. Celcom, which has the fastest average download speed of any individual operator, was in last place -- showing that there's more to a good network than just fast average download speeds.
For excellent quality, the picture is reversed -- Maxis is still in the lead, with 68.9%, but Celcom is in second place at 61.6%. DiGi falls to third, with 57.5%, while U Mobile is in a distant last place. U Mobile's last-place finish for excellent quality is unsurprising, given the average download speed is just 4.3 Mbps -- that is barely above the excellent quality threshold, and means that a large number of results will fall below 4.3 Mbps.
---