Breakdown of the ten most populous cities across India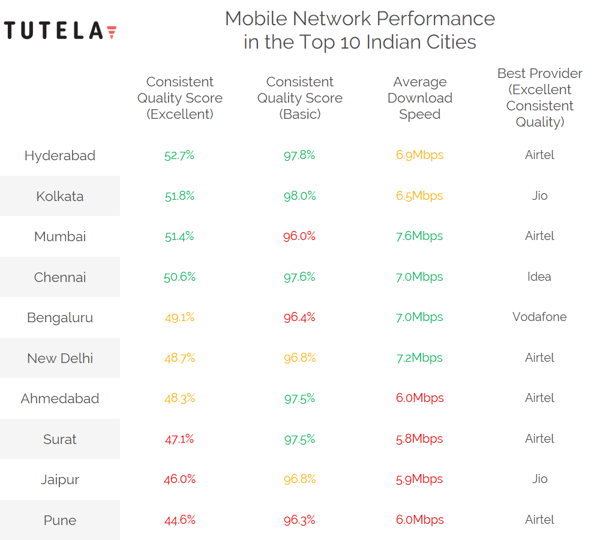 Amongst the top 10 most populous cities in India, Hyderabad's mobile networks had the best excellent consistent quality, with 52.7% of tests over any mobile network meeting Tutela's thresholds. India's largest city, Mumbai, had the highest average download speed at 7.6 Mbps, while India's capital ranked sixth overall for excellent consistent quality.
Jaipur, meanwhile, had the largest percentage of data use over 4G (75.3%), with Hyderabad having the lowest 4G usage and the highest percentage of data transmitted over Wi-Fi (49.4%). This may indicate why Hyderabad's networks performed so well in testing -- a higher percentage of data across Wi-Fi would indicate lower load on the network, resulting in less network congestion and better overall performance. Meanwhile, Pune had the highest percentage of data use over 3G out of all the cities tested (7.1%). As 3G connections do not tend to meet the excellent consistent quality threshold, most frequently due to the higher latency and also the slower speeds, this would go some way to explaining why Pune placed last overall for excellent consistent quality.
By operator, Airtel was the clear winner in Tutela's testing, ranking top for excellent consistent quality in six of the 10 cities tested – Hyderabad, Mumbai, New Delhi, Ahmedabad, Surat, and Pune. Jio came top in Kolkata and Jaipur, while Vodafone was best in Bengaluru and Idea in Chennai. While Vodafone and Idea's networks have continued to operate independently since the finalization of a merger last year, these results provide a small indication as to how complementary the two brands may prove to be to each other.
It is important to note that excellent consistent quality is representative of more demanding use cases such as streaming HD video or making reliable group video calls. In Tutela's State of Mobile Networks Report for India, published in February 2019, Jio had the best overall consistent quality across the whole country, with 95.7% of connections meeting the threshold for basic activity. This is suitable for tasks like browsing normal web pages, internet messaging and social networking.
However, as basic consistent quality in India approaches 100% -- as can be evidenced on a by-city basis in the ranking table -- it's important to assess how the network performs in more demanding situations. According to a recent Nielsen report, video-streaming, browsers, social networking and image apps account for more than 50% of total time spent on smartphones in India. As video streaming becomes one of the most popular use cases for smartphone users, the excellent consistent quality threshold becomes more important for reliably benchmarking how users are experiencing their mobile networks.
To compile this report, over a two-month period Tutela examined more than 34 billion network quality measurements, including over three million speed tests and 51 million latency tests. Our data was collected from 01 February 2019 to 31 March 2019.


---