City breakdown of the 15 largest cities across DACH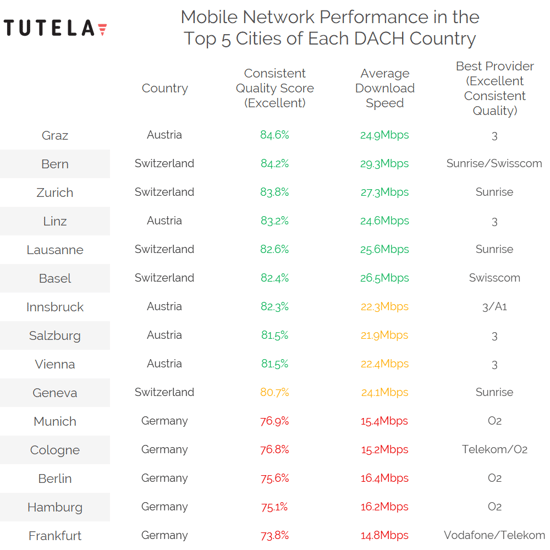 Graz in Austria has the highest excellent consistent quality in the DACH region, with 3 leading the way among the three main Austrian operators in the city with the highest overall percentage of tests meeting Tutela's threshold. This was closely followed by Bern (Switzerland), which is just 0.4 percentage points behind, where Sunrise leads in terms of local operators.
This is according to data collected by Tutela between 01 December 2018 to 31 May 2019, including 3.4 million speed tests, and a total of over 21 billion measurements.
Overall, all five of Germany's top five cities finished behind those in Austria and Switzerland. In part, this is likely due to a difference in population density (Frankfurt, the least populous city in Germany tested in this report has a population in excess of 600,000, while Lausanne, the smallest city tested in Switzerland has just over 100,000). However, as Tutela's State of Mobile Networks report noted, at a national level also Germany scored lower for excellent consistent quality, most likely due to the country's higher reliance on data usage over a 3G connection, which almost never meets the "excellent" threshold.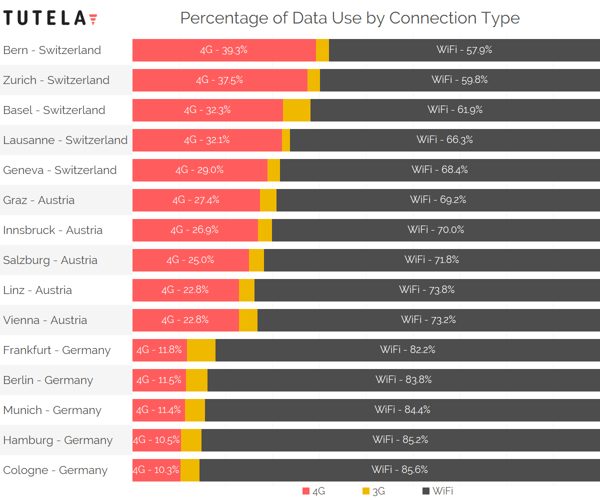 This is reflected at the city level with German cities showing between 4-6% of data usage on a mobile device travelling over a 3G connection, and just 10-12% of mobile data over a 4G connection. This rate of 4G usage is far lower than in other parts of the DACH region. Bern in Switzerland, which had the highest rate of 4G data usage, has 39.3% of mobile data usage travel over a 4G connection, while Cologne in Germany (which had the lowest) had just 10.3% of data using an LTE connection.
However, lower rates of 4G did not significantly deter users in Germany from using mobile data; users in Cologne, for example, used around 70% of the volume of mobile data of a user in Geneva.
When looking at each of the cities individually, it is noticeable that the mobile operator with the fastest average download speed is not necessarily the one that comes top for excellent consistent quality. User's experience of the network is defined by more than its raw speed, so Tutela uses a metric that combines multiple measurements – download and upload throughput, latency, packet loss and jitter – to provide a more complete overview of network performance from a user's perspective. A good example of this is in Switzerland, where Swisscom was the fastest network on average in all five cities tested, often by a significant margin, however Sunrise either drew with Swisscom on consistent quality, or won outright in four of the five cities. There can be many reasons behind this, and they can differ city-by-city and operator-by-operator.
However, in this case Swisscom fell behind predominantly due to either failing to meet the upload or download thresholds. How can Swisscom have the fastest average speeds, but still fail to meet the 4 Mbps download threshold? This usually comes down to the distribution of download tests; Swisscom has a large number of 4G tests with speeds around 2 Mbps – indicating some sort of traffic management may be in effect.
---