September 2019
The past year has seen rapid change across the Spanish and Portuguese mobile industry. Not only did it see the launch of Spain's first 5G network – one of the first in Europe – but consumer habits and plans have been in flux. The price of unlimited data continues to fall, new plans that include over-the-top streaming services have been rolled out, and consolidation between the mobile networks of the two countries has (reportedly) accelerated.
In short, it's clear that there's never been a better time to own a smartphone and a data plan in Spain or Portugal. But for consumers, when it comes to picking a network, the variety of plans and perks on offer can obscure the underlying truth: a network is only good as long as it's reliable.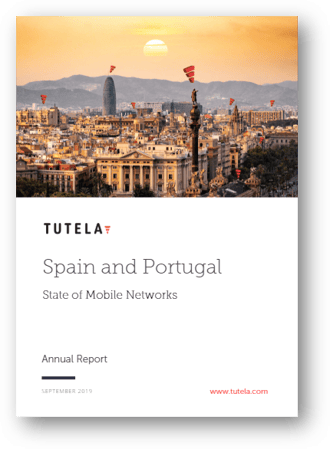 To better understand Spain and Portugal's 3G and 4G networks, and how they perform from a consumer perspective, Tutela has collected and analyzed 281 billion measurements, including over 40 million speed tests and 649 million latency measurements, from over 3.8 million devices (iOS and Android smartphones) between February 1st and July 31st 2019.