July 2019
In April, Telstra launched the Amazon Prime Video app for its customers, with the ability to watch content on their Telstra TV or, if on the go, stream or download content via smartphone or tablet. Looking at Australia for the April - June testing period, Tutela has found Telstra to have the highest 'excellent' result in consistent quality which looks at different use cases to identify the quality of each connection i.e. video streaming.
Telstra also performed high average download speeds for the 4G/3G testing (23.86 Mbps). Vodafone has the highest average upload speed with 12.71 Mbps and performed best on the latency test with 19.9 ms. Optus continues to have an 'excellent' consistent quality result at 78.6%, but also has the highest 3G latency result at 51.8, a 2.6 point increase from April.
Telstra performs best for 'excellent' consistent quality
Telstra continues to have the highest percentage for the 'excellent' consistent quality testing, with a slight drop to 83.7% from April's report. Vodafone sits in second place again with 83.2%, followed by Optus at 78.6%.

Telstra also demonstrates high average download speeds
Telstra recorded the highest average download speeds in Australia for the 4G/3G testing, with a result of 23.86 Mbps. Vodafone has an average 22.74 Mbps result for Q2, bumping them down to second place from 23.74 in April. Optus recorded the slowest average download and upload speeds, with a result of 21.09 and 9.97 Mbps respectively.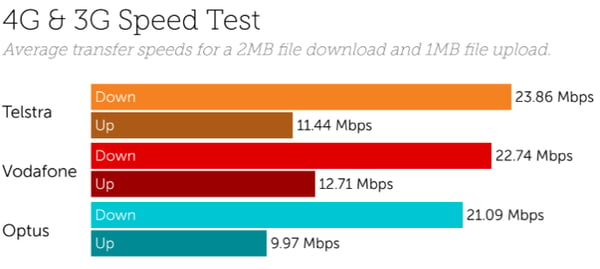 Vodafone lead 4G latency
Vodafone has bumped up to number one for latency, with the lowest average latency delay in Australia of 19.9 ms on 4G and 43.3 ms on 3G. Despite only slightly improving its result from April, the difference in ranking is due to Optus increasing its latency result on 4G from 18.9 ms in April to 22.4 ms. Its 3G result has also increased to 51.8 ms. Telstra has improved its 3G latency from 54.9 ms to 53 ms.

Our findings for Australia are based on 32.4 billion network quality measurements including 5.3 million speed tests between April and June. Our latest complimentary Mobile Experience Report is available to download from the Tutela Insights portal.
---